Local pilot, pastor gets missionary work to take flight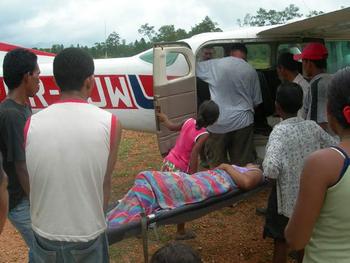 In Third World countries, where roads are rough, cars are scarce, and most people get around on foot, a trip to the hospital is often measured in days instead of minutes.
That time can mean the difference between survival or death for the patient.
Nashua flight instructor Sean Donnelly, his volunteers, and pilots from the Missionary Air Group are doing what they can to make sure that trip to the hospital is easier and only 20 minutes long.
"We're kind of like the ambulance," said the Rev. Donnelly, President of Missionary Air Group, a nonprofit Christian charity that delivers medical services by air to Honduras, Central America and parts of Africa.
"We fly out to a village for people who are sick or injured. Someone who might typically die."
Donnelly started doing humanitarian projects in Honduras in 1998 and moved to Kissimmee, Fla., in 2002, to commute to Honduras full time.
It was during those years that he realized how many people were suffering due to lack of medical care.
When he moved to Haverhill, Mass., in 2003, he knew that he needed to do something, anything to raise awareness.
He started the missionary air He started the missionary airgroup here to keep up the work.
"Literally, airplanes make a difference between life and death," Donnelly said.
Training pilots to land on unimproved landing strips and decision-making in relief and medical evacuations are a few things Donnelly has to offer as an instructor.
A flight instructor at East Coast Aero Club and Aerial Advantage Aviation, both in Nashua, Donnelly has been a pilot for more than 20 years.
He has been doing his part as a humanitarian for more than a decade.
"I want the aviation community to realize what an impact they are having on the world," Donnelly said.
"They're actually saving lives."
Wesley Wiles, a pilot in Honduras, and Dr. Craig Oranmore-Brown, a pilot in Africa, are both from Nashua and trained by Donnelly.
Donnelly, also a pastor at Advent Christian Church in Haverhill, is amazed and grateful at how dedicated these pilots are.
They are flying every day, as soon as they get a call on the radio about an emergency.
"Their generosity and involvement matters," he said.
"You can make a difference."
With no grants or contracts to keep the funds coming in, the majority of donations come from individuals and some from churches.
Some airports have even donated planes.
"All of our people are right here," Donnelly said.
"Right here" was an expression he used a lot, making sure it was known that Nashua has been a huge part in making it possible for this care to be done in less fortunate countries.
The experiences Donnelly has had within the last decade will be shared during several presentations he is giving in Nashua and Massachusetts.
"There will be lots of pictures and stories about how lives have been saved," Donnelly said.
He is touched that so many people have already been a part of the missionary air group, whether it's donating something or flying a plane.
"I believe whatever gifts and skills you possess, you better be able to use them to help others," he said.
"And I'm a pilot."
For more information, attend one of the "Flying Between Life and Death – A Pilot's Perspective" presentations or visit www.missionaryairgroup.org.