Local Marine had role in high-seas rescue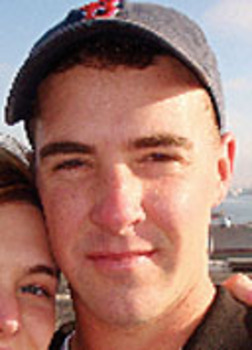 NASHUA – Debra and Dennis Doherty don't know exactly what role their Marine corporal son, Robert, played in a ship captain's rescue from pirates earlier this month.
What Debra Doherty does know is that he was part of history.
"We don't know what Robbie's part was in all this," Doherty said. "We do know he was on the Boxer and the Boxer is part of history now. I don't want to take away the heroic actions of the SEALS and everyone else who made this rescue possible by guessing what my son's role was. But we are proud of him. We're proud of our military."
Robert Doherty, 23, was among the 1,500 Marines based at Camp Pendleton, in California aboard the USS Boxer, an aircraft carrier that is leading an international anti-piracy task force.
The Boxer was involved during the dramatic rescue of cargo ship Capt. Richard Phillips from the hands of Somali pirates in the Indian Ocean. That's when Navy SEALS rescued Phillips from a covered lifeboat after three snipers aboard the USS Bainbridge, killed three pirates.
The rescue ended a five-day standoff between United States naval forces and the small band of pirates who boarded the Maersk Alabama, a 17,000-ton cargo ship, on April 8. Phillips, the captain of the cargo boat, offered himself up as hostage to protect his crew. He allowed himself to be taken at gunpoint to the lifeboat.
After the rescue, Phillips was flown from the USS Bainbridge to the Boxer, which has a large medical facility on board.
But that's not news the Dohertys or Robert's girlfriend, Liz Baker, a marketing assistant, heard firsthand.
"The last time I spoke to my son was on my birthday, Good Friday (April 10)," said Debra Doherty who works in the medical records department at Southern New Hampshire Medical Center. "He told me that plans had changed and that the Boxer was going in a different direction than originally thought. He said he couldn't tell me any more than that. After that (nonmilitary) communications were shut down. Since then, I know what anybody else knows by reading newspapers and watching television."
Baker said she talked to Doherty "when he was on the way to the scene. He wasn't allowed to tell me where he was going. But he did say I might want to watch CNN if I 'wanted to know what was up.'"
Doherty was raised and lived in Nashua until he joined the Marine Corps nearly three years ago. He and the rest of the Marines on the Boxer are based at Camp Pendleton in California. Debra Doherty said her son was deployed on the Boxer in the middle of January.
Doherty's friends and family, which include brothers Marc and Brian and sister, Tanya, have some concern about his safety, especially after Somali pirates promised retaliation for the rescue.
"It is pretty creepy to hear that these pirates want to make example of Americans," Baker said. "These people have taken over huge ships. I've talked to his family, and they're worried more than before. I think it helps not to watch or read the news nonstop. But I do tell Robbie's sister that if she does keep track of the news, to keep track of more than one news source so you can get perspective."
Baker said she also deals with the uncertainty of her boyfriend's whereabouts by visiting regularly with his family, sending him packages – the latest of which will contain a pair of boxer shorts with pirates on them – and trying to find distractions, including a blog she started to reach out to the girlfriends and wives of other Marines. For Debra Doherty, who's older son, Marc, was a Navy Seabee in Iraq during the first invasion, being a military parent means running the gamut of emotions. "You feel an enormous sense of pride but at the same time being afraid for the safety of your child."
In order to deal with these emotions, and help others experiencing the same thing, Debra Doherty has started a support group called Moms of Marines for local women whose sons or daughters belong to the Marine Corps.
"We get together and offer advice and information to one another. If you're son or daughter has just joined the Marines, we can walk you through what boot camp will be like."
Doherty said the group has also joined with local churches and schools to assemble and send packages of goodies to send to the military. "We're a small group but we do a lot, and we welcome anybody new who would like to join."
Part of what the members of the group do for each other is deal with the uncertainty which ensues when a child is in the military, Debra Doherty said. "We never really knew what Robbie was doing on this (Marine Expeditionary Unit). We knew he was going over to that part of the world for operations security, but that was it. The rest he is told, and we're in turn told, on an as-needed basis."
She said, while it's disturbing to hear threats against Americans on the part of the pirates, she feels they are dealing with a group of highly trained member of the Navy and Marines.
"But it does scare me how young some of these pirates are, and that they're firing weapons. But at some point we have to say this pirate stuff is unacceptable. If anyone can do it our guys can do it. You have to be proud of the fact they put their life on the line every day for us.
"It makes me really proud that he's doing something noble, but it doesn't make me worry less I have a strong faith in God. We have a lot of people praying for him and all the military, and that does give me a strong sense of peace."
For more information about Moms of Marines, e-mail momsofmarinesnh@gmail.com.