Local library directors say economy is boosting use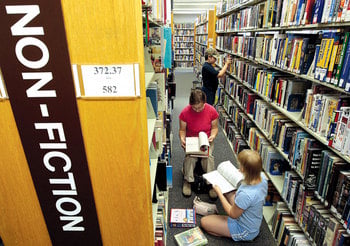 Ask Milford library director Michelle Sampson if the downturn in the economy has increased library use, and she's quick to offer a two-word exclamation: "Oh, yes!"
Sampson, who runs the Wadleigh Memorial Library located near the town center, says foot traffic is rising.
"People are just trying to save a little money," Sampson said of borrowing of books, magazines, DVDs, CDs and other materials. "Instead of renting, they're checking them out."
Many area libraries are seeing spikes, although few are connecting them directly to the library.
At the Merrimack Public Library, director Janet Angus reported that local patrons borrowed 1,475 more books, videos and other materials in July than they did a year ago.
"No one has said it's because of the economy, but we had 14,000 people in July," Angus said of the door count, which was up by 476 over last July's figures.
Traditionally, library use goes up during economic hard times. During the Great Depression, for example, the Nashua Public Library was open seven days a week and packed wall-to-wall with people.
"It's an inverse relationship that usually holds," said Joseph Dionne, Nashua Public Library director. "In times of economic uncertainty, everybody tends to use the library more."
The library director said the city library's circulation is "up tremendously and continues to grow," haven't more than doubled over the past five years, although he couldn't say for sure that the surge is related to the economic slowdown.
Gaye Kulvete, director of the Hollis Social Library, said she has seen a 10 percent increase in circulation during the first half of 2008.
"I'm seeing an interesting trend. It seems like a lot of people are coming in to check out DVDs, any kind of DVDs," Kulvete said. "Two people said they'd canceled their cable and Netflix. An older woman told me: 'It's either gas or TV. I'm giving up my cable.' "
Increasingly, the library director said, she's been hearing patrons say they are spending vacations close to home rather than traveling. Many are attending, or marking their calendars to attend, the free library programs: Scrabble Night, a birding series (children's movies about birds), discussions by local writers and a Shakespeare performance.
"Most libraries are becoming more of a communitycenter," Kulvete continued. "It's not so much of the shushing as before.
We have a children's room, a separate section for musical programs."
In Brookline, borrowing at the small public library is up, although library director Myra Emmons also couldn't attribute the rise directly to the economy.
"Historically, yes, people do use the library more than when they have less disposable income," Emmons said. "We've had more use, but I don't know if it's attributable to the economy."
In Milford on a recent weekday morning, 11 of the 12 computers available to patrons at the Wadleigh Memorial Library were in use. Holly Gladsden, of Milford, a high school English we've teacher in Wilton, was doing genealogy research.
"I'm more conscientious about my travel patterns. I plan errands: the gas station, the library, the County Stores, and home, a loop," Gladsden said, adding that in addition to borrowing rather than renting movies, she is also letting her magazine subscriptions lapse, knowing she can save money by reading them at the library.
"I stop and think a little more," she said.
At the Amherst Public Library recently, business was brisk, keeping the librarians on their toes all day.
"Yes. I can give you one answer and that's 'Yes!'" library assistant Toni Dinkel replied after she was asked if traffic has increased in recent months.
"We've been busy. We've been constantly busy every day and our circulation statistics have been up all summer," she said.
Amherst library assistant Vicki Durzy pointed out that last July, 6,741 patrons entered the library according to the door counter, while last month that number jumped by more than 4,000 to 10,901.