Local EMTs help survivors in Ike-ravaged South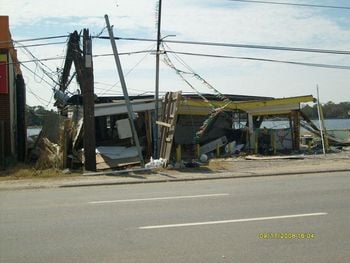 NASHUA – Hurricanes stink.
Literally. They leave behind a horrible, muddy, raw-sewage smell. At least Hurricane Gustav did in Louisiana where it killed acres of vegetation when it flooded much of the region with untold gallons of saltwater.
Four Rockingham Regional Ambulance EMTs walked the walk, and smelled the stink, for 29 days in the storm-ravaged areas of Louisiana and Texas, helping to transport displaced patients and triaging others at emergency shelters.
Andrew Wallis, 38, of Bedford and a Texas native, Adam Frederick, 21, of Salem, Ken Patria, 28, of Temple, and Gail O'Halloran, 54, of Merrimack, were called Aug. 29 at midnight and told they were being dispatched to Louisiana in advance of Hurricane Gustav's landfall. They had eight hours to pack, say good-bye to their families, gas up a pair of ambulances and head south.
Twenty-nine hours later, they pulled into the Louisiana State University Agriculture Center in Alexandria along with about 340 other ambulance crews. The crews were split into five or six ambulance strike teams and dispatched throughout the Gulf Coast.
"It definitely gives you another perspective," O'Halloran said. "You look at this devastation and you look at each other and think, 'Thank God.' And to see it happen to these people (and they) go back and rebuild. I don't know if I could do it."
Rockingham Regional Ambulance is part of a Federal Emergency Management Agency coalition of ambulance services that are on-call when major disasters strike the country, according to Executive Director Chris Stawasz. The group knew they might be mobilized, but "you never know when (FEMA) might push the button," Stawasz said.
During the 29-day deployment, during which they slept in the back of their ambulances, the group drove a combined 13,884 miles and used an estimated 1,015 gallons of diesel. They'd also moved more than a dozen patients to shelters that were often several hours away, or back to their homes from shelters where they had waited out the storm.
"You hear it in their voice, asking if they were going to a home or going back to nothing," Patria said. "And at the same time they were trying to be so gratifying that you were helping them."
The majority of their time was spent at shelters triaging hundreds of patients, deciding whether they needed urgent care or could be sent to first aid centers, and treating minor injuries.
The shelters were widespread. The group spent time in New Orleans, Baton Rouge, Lafayette and Lake Charles, La., and in Houston, San Antonio, Port Arthur and Galveston, Texas.
The group's favorite part of the excursion was setting up, from scratch, a portable hospital in Alexandria. That call also came at midnight and they immediately started erecting shelters and setting up hospital beds and equipment. The patients started rolling in before they were finished, including one woman who had spent eight hours on an Army cot in the back of a 15-passenger van that was driving around the state looking for a shelter with room for her.
"That was the best part," O'Halloran said. "We got to see that from start to finish. We saw the people come in, and we brought them back home."
This was the second trip to the area for O'Halloran and Wallis. They went on a similar trip following Hurricane Rita in 2005. It was the first for Patria and Frederick.
Frederick said the scale of the damage has much more of an impact than seeing footage on television.
"When you're actually there and you see the devastation in person, it's pretty breathtaking," he said.
Stawasz said Rockingham Ambulance is part of the FEMA coalition because when a disaster strikes New Hampshire, groups from other states come here to help.
"That's what makes the whole system work," he said. "That's what this is all about, taking care of your own."