Local EMS crew heads south for hurricane relief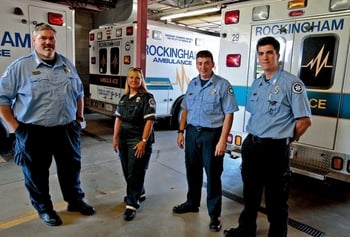 A crew of Nashua paramedics has been deployed to the Gulf Coast in preparation for Hurricane Gustav, a Category 1 storm that is already forcing evacuations in Mississippi and Louisiana.
The Rockingham Regional Ambulance crew, led by Andy Wallis, left Friday morning and plans to arrive on the coast today.
"We don't need to stop, except for gas and food," Wallis said Friday, minutes before leaving.
The crew, one of 600 in the nation deployed to the Gulf Coast, expects to begin their work by helping evacuate hospitals and nursing homes, crewmember Gail O'Halloran said.
"It's like a one big gravy train, human body shuffle. You just take as many people in your truck as you can . . . they usually shuffle down a bunch of Greyhound buses," O'Halloran said.
This isn't the first time this Rockingham crew has been hired to help with rescue efforts. The team was deployed in 2005 for Hurricane Rita, which caused billions of dollars in damage along the Gulf Coast the month after Katrina devastated New Orleans.
There, they reopened a hospital, ran an emergency room and operated a 911 service, Wallis said.
Chris Stawasz, executive director of Rockingham ambulance, the largest ambulance service in New Hampshire, said the Federal Emergency Management Agency put out a contract shortly after Katrina asking for crews it could hire to help with hurricanes.
"That's why we don't hear a lot about Rita. The response was overwhelming from an EMS standpoint, and a lot of people were served very well, which wasn't the case with Katrina," he said.
If Gustav hits the Gulf Coast, it would strike only days after communities marked the three-year anniversary of Katrina. Forecasters caution that a storm's exact track and strength are difficult to predict days in advance.