Local developer wants to build on former radio site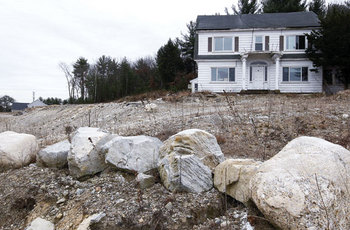 NASHUA – A local developer wants to construct two 4-1/2-story apartment buildings of so-called "workforce housing," eight detached condominiums and two medical facilities at 502 W. Hollis St., the site of the former WSMN radio station just off Exit 5 of the F. E. Everett Turnpike.
The proposal is controversial partly because the developer, John Picard, never finished a 40-unit cluster development on the site that was approved by the city two years ago. Since then, Triangle Credit Union had a drive-through bank on the site rejected by the Zoning Board of Adjustment.
Both projects were vigorously opposed by residents who live in the area. They argue that existing zoning only allows residential use and that large development would worsen dangerous traffic on West Hollis Street.
Some of those same residents are set to battle this latest plan when the zoning board considers the case at a meeting scheduled for Tuesday at 6:30 p.m. in the City Hall auditorium.
The new proposal comes from Picard, who will ask the Zoning Board of Adjustment for seven variances to enable the development.
But Picard said his new proposal is dramatically different from the cluster condo plan – which is on a different portion of the property – and the credit union project.
In an interview at Picard's home Wednesday, he and former city assistant director of economic development Alan Manoian, said this latest proposal has been designed as a work force housing development.
The development, Manoian and Picard argue, would allow police officers, public works employees, school teachers and administrators who work in the area to live in the apartments or the condos and walk to work.
"Here is a development with close proximity to this work force which is single largest node of municipal employees. They can walk to work in ten minutes, not even 10 minutes," Manoian said.
The former radio station site is located across West Hollis Street from several city facilities, including the police department, the public works garage and Nashua High School North, as well as the Riverside medical building and a handful of businesses. The site is right off Exit 5 of the Turnpike and next door to St. Philip Greek Orthodox Church.
Manoian is now Director of Economic and Community Development in Bridgton, Maine, east of North Conway, and owns a local company called OIA Traditional Town Planning. He said Picard enlisted his aid to incorporate three essential elements into the plan: Smart growth, sustainable economic development and social responsibility.
Picard plans to build a new road called Hollow Ridge Drive off W. Hollis St. that will wind around the development. Parking for the apartment buildings will be underground to help preserve green open space, he said.
But people who live in the area now say Picard is simply a bad neighbor. Only one condo in the cluster development has built over the past two years, they say, and two are half-finished and open to the elements.
"The place looks like a war zone," said Kathy Rivard of 26 Briarcliff Drive, a chief critic of Picard and the quality of his work.
Rivard and others say that Picard seems incapable of understanding that the area is zoned R-9, meaning that only single family homes can be built there, on lots measuring at least 9,000 square feet.
A few years ago, when a developer proposed building a supermarket in the neighborhood and buying up houses to make room for the project, homeowners fought the plan and it never went beyond the discussion stage. Shortly afterward, The Board of Aldermen passed a resolution stating that the area was to remain in the R-9 zone.
But Picard insists the R-9 zoning presents a major hardship for him and prevents him from making a suitable and productive use of the land, which is why he is asking for variances.
"If you talk to just about anyone in the city, they all agree that single-family housing is not the best use for the land," he said.
He concedes the company he formed to build the cluster condos is now under bankruptcy protection, and that he owes the city about $100,000 in back taxes.
Picard denies he is a bad neighbor and points to developments he's built on Kinsley, Main and Blossom streets as evidence that he constructs attractive projects that increase property values in the neighborhoods.
He concedes the property on which he intended to build the cluster condo project, formerly called Mine Falls Estates, does, in fact, look like a war zone. That's because of the huge amounts of ledge beneath the soil, he said. He maintains most of the property is unsuitable for residential development.
"There are glacial boulders the size of trucks on that site," he said.
"When building residential developments you don't really know what you're into until you put a shovel in the ground," he said.
He applied for the variances using the name of his former firm, Bonnette & Picard. According to Comcast, there is no telephone listing for such a firm. Gerald Prunier, a former lawyer for Picard, said Steve Bonnette is no longer affiliated with Picard. Picard said changing the name of the firm would be too costly because of the transfer fees involved.
The developer said his new lawyer is John Edwards from Boston, who will represent him before the zoning board Tuesday. Manoian will also make a presentation to the panel, he said.
Still, homeowners in the area insist that putting up two apartment buildings with 64 units each, a two-story 16,900-square-foot medical arts facility and converting the old run-down radio station into a two-story, 4,200-square-foot medical/dental facility is simply ludicrous.
"Is he dumb or what?" said Marilyn Pizzolon of 22 Pitarys Dr. "How could he propose something so ridiculous?"
Pizzolon said traffic on W. Hollis St. remains dangerous and it's unlikely to get better anytime soon. She and others said they're tired of fighting Picard and his projects.
"This guy can't be relied on to finish anything," Pizzolon said. "This is really too much. I can't wait to pack up and move out of here."