Little to show on Nashua area pantry shelves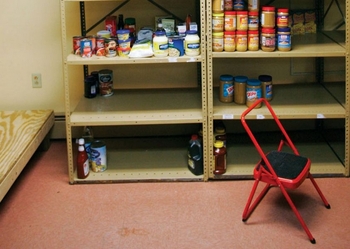 Charlotte David, director of the Nashua Christian Bible Church food pantry, visited the New Hampshire Food Bank in Manchester a week ago, just two days after the bank received more than 16,000 pounds of food.
David got 300 pounds of food that day. She returned Thursday morning to find that all 16,000 pounds, which is approximately 20,500 meals, had already been dispersed throughout 352 food agencies across New Hampshire.
The sigh of relief that food bank administrators and food pantry directors enjoyed last week was temporary, and the agencies are left with the problem of resolving a food crisis that is poised to worsen as the holiday season approaches.
On Sept. 8, Erin Torrey, a development associate at the food bank, predicted the Shaw's donation might last a week; it lasted just over three days.
With Torrey's prediction realized, a majority of food pantry shelves in Greater Nashua are empty with no relief in sight.
David described the Nashua Christian Bible Church pantry as "bare."
"We are in desperate need of help," she said.
Pauline Boifvert, director of the St. Vincent De Paul Society food pantry, which is operated out of St. John the Evangelist Church in Hudson, estimated that her pantry has enough food to last through a month.
"After that point, the shelves will be near empty," Boifvert said.
She said the pantry hopes to make it through the month while the local Knights of Columbus and Boys Scouts host food drives.
"We're very reliant on donations," Boifvert said.
Even when pantries get some food, it's a challenge to maintain a surplus on the shelves because of a recent increase in attendance.
Katie Petrini, president of the Upper Room Compassionate Ministries pantry in Nashua, said food orders are getting bigger and lasting for briefer periods than ever.
"Each order used to last us four to five weeks," Petrini said. "Now, it's like two-and-a-half weeks and we're out (of food)."
The Nashua Christian Bible Church pantry, for instance, averaged 75 families a month through June. However, over the last three months, that number has jumped to an average of 100 families a month. David expects attendance to grow as fall transitions into winter.
The Salvation Army food pantry in Nashua accommodates between 20 and 25 people a day, according to Lucille L'Heureux, family services coordinator.
L'Heureux added that on average, 100 people come in each morning to get free fresh vegetables that are donated from a local farm that wishes to remain anonymous.
Earlier this month, officials from pantries and shelters around Greater Nashua met to discuss the food crisis. According to Petrini, the meeting aimed to answer one question: "What are we going to do?"
"I think we went there hoping to see if we could figure out a way to make it better," Petrini said. "The end consensus was that no matter what we do, we're not going to have enough. We're all in the same boat."
That consensus also recognized the importance of increased community assistance if there is any hope of quelling the worst food crisis in more than two years.
"I think more people need to chip in and help. The ministries and the food pantries can't do it by ourselves," Petrini said. We need to get more people helping. I'd like to see more people involved in helping; don't leave it for someone else."
For L'Heureux, like most administrators overseeing the stocks of supplies, answers are as scarce as food.
"People need to be helped; we need help," L'Heureux said. "I don't know what else to say."