Litchfield voters not in spending mood Tuesday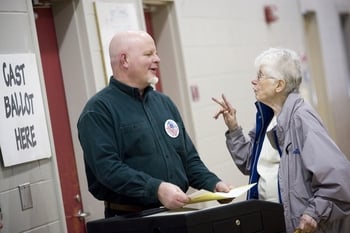 LITCHFIELD – Taxpayers here said no, and they said no to pretty much everything.
Except for the Litchfield School District's $20.7 million operating budget, most other high profile warrant articles were defeated during all-day voting Tuesday. That includes the town's $4.2 million operating budget, a $1 million bond for road repairs, two union contracts and a proposed change to the town's form of government.
The town's budget was defeated, 718-574. The impact will be fairly minimal because the default budget is only about $115,000 less.
Selectmen's Chairman Frank Byron said the tighter budget will mean the board will have to take a "hard look" at where to cut back. Department heads are already looking to trim budgets in case state revenues come in lower than expected, he said.
Cutting back will be left up to the selectmen since another article that would have allowed the board to hire a town manager also failed. That article, which would have raised $42,000 to pay a professional manager, and no more than $85,000 annually thereafter, failed narrowly, 666-622.
Byron said the result was still positive because it was close and showed that residents recognize the time has come to change the way the town has run.
"I'm happy that it was at least close," he said. "I think we have to take a hard look and see if we want to bring that back."
Selectmen say the workload in the small town is big enough they can't properly handle day-to-day operations the way a full-time manager could.
More Photos:
The Board of Selectmen itself will have a different look since Steven Perry handily defeated incumbent Selectman Al Raccio 700-392.
Perry, 33, a Planning Board member since 2003, will have the seat for three years.
Voters also defeated an article that asked for $1 million for a major construction project to repair and reconstruct culverts on Page Road, Cranberry Lane, Chase Brook at Albuquerque Avenue and to pave a mile of Albuquerque. That article needed two-thirds approval and garnered 648 positive and 636 negative votes.
The school's budget passed 965-331, but a three-year deal for teachers that would have cost another $451,354 next year was defeated. That article failed 442-866.
The other union contract on the ballot, for police, went down by a similar margin 453-835. That would have cost an additional $23,111 next year for salaries and benefits.
Police Chief Joseph O'Brion said since both contracts were defeated by similar votes, it seemed to him that some voters were committed to voting down labor agreements this year.
"I don't think it's a comment on the employees," he said. "There's a lot of uncertainty. I think it was more people just not voting for contracts."
The police union has been working without a contract since last March, O'Brion said.
School Board Chairman Dennis Miller retained his seat and will be joined by newcomer Jason Guerrette.
Miller, 43, has been on the board since 2006 and chairman since 2007. He's also served on the elementary school building committee and budget committee.
Guerrette, 40, is retired from the Navy and previously served on the district building committee.
He topped all vote-getters with 711 votes and Miller got 577. Kerri Hagerty received 415 votes and Selectman Andrew Santom got 291.