Litchfield totally in dark; crews scramble to open roads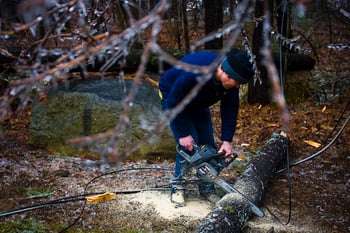 LITCHFIELD – Homes and businesses served by PSNH were "100 percent without power," Fire Chief Thomas Schofield said Friday afternoon.
Also, too many roads were closed to list, including half of the 10-mile stretch of Route 3A, Schofield said.
"Our community is shaped like the state, skinny and long," Scholfield said.
Route 3A is the major north-south traffic thoroughfare in town, he added.
Portions of Albuquerque Avenue, which cuts through neighborhoods, were down to one lane in places, Scholfield said. Albuquerque is the other heavily traveled north-south road.
With nightfall, and cold temperatures, 2 ½ hours away and closing fast, Scholfield said he and emergency officials were scrambling to place cones marking the numerous fallen limbs and trees.
Also, the town has no capacity for an emergency shelter, so Litchfield worked out a deal with Londonderry to use Londonderry High School as an emergency shelter, Scholfield said.
Londonderry High School is located on Mammoth Road north of Route 102.
Litchfield firefighters delivered a flyer with emergency information to all the housing developments for residents 55 and older.
Firefighters also would provide emergency transportation to the shelter to anyone who needs it, Scholfield said.
About 30 firefighters were working Friday, Scholfield said. Crews had been working since 10 p.m. Thursday, he said. The town police department was operating on emergency generators, police said.
— Patrick Meighan