Litchfield home gutted by blaze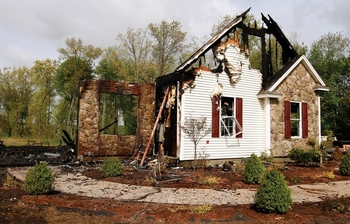 LITCHFIELD – A fire destroyed a home early Friday morning.
No one was hurt in the blaze at 14 Westview Dr., Fire Chief Tom Schofield said this morning.
Schofield said he was unsure if the home's occupants were there when the fire started.
The cause is unknown at this point; Litchfield Fire Department is investigating with the help of Litchfield police and the state fire marshal, he said.
"It was a major loss," Schofield said.
"It was very well involved when we arrived."
The fire was reported by the police department. The station sits about 100 feet away from the home.
Employees of the department saw the fire and heard an explosion, Schofield said.
Fire crews arrived around 2 a.m. and the fire was knocked down about an hour later, Schofield said.
Only a shell of the 7,000-square-foot, two-story structure remains. It is uninhabitable.
The Gerossie family, who lived at the home, was not available for comment Friday.