LinkAbilities: Making the connection to fill workforce needs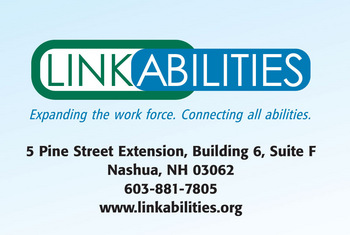 At LinkAbilities, a project made possible by Medicaid Infrastructure Grant funds, it's all about making connections to expand the workforce.
LinkAbilities is a nonprofit resource that promotes public and private partnerships to address workforce needs and challenges for employers and people with disabilities in the greater Nashua community.
"LinkAbilities is a liaison, if you will, bringing employers, partners and people with disabilities together to create a more diverse and productive workforce," said Emily Manire, Director of LinkAbilities. "We quickly realized that employers are open to the idea of hiring people with disabilities, once they overcome a roadblock of unanswered questions. We're here to help provide answers and make the connections necessary to identify and coordinate opportunities for employment."
By providing and supporting sector-based training initiatives, school-to-work programs and enhancing certification standards, LinkAbilities provides muchneeded support to businesses, employment providers and partnership programs and potential employees.
"We're not unlike a traditional business, in that we focus on networking and providing a service — or, in some respects, a product — to benefit the local economy," said Manire. "What does make us unique is our ability to provide a service to three sectors — businesses, partners and consumers."
The U.S. Bureau of Labor Statistics estimates that by 2012 there will be 19 million more jobs, but 36 million fewer workers, meaning people with disabilities will become an integral part of the workforce. With goals aimed at improving employment outcomes, LinkAbilities strives to become a long-standingresource in the community, acting as the first point of contact for those it serves.
For more information, visit www.linkabilities.org or call 603-881-7805.
LinkAbilities is a project of Gateways Community Services and is made possible under an agreement with the state of New Hampshire, Department of Health and Human Services, Bureau of Developmental Services, with Medicaid Infrastructure Grant funds provided by the federal Centers for Medicare and Medicaid Services under CFDA 93.768.