Light at the end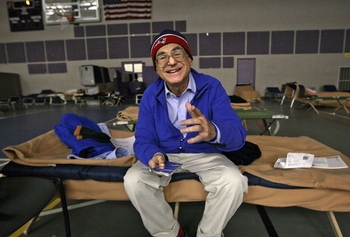 EDITOR'S NOTE: Correspondent Wendy Thomas has been at the Red Cross shelter set up at Nashua High School South since Saturday morning, after having spent Thursday and Friday nights without heat, electricity or water.
Susan Flaherty and her husband Jim, of Hollis, who are well connected in the community, received a call from the Hollis police asking them if they knew of anyone who was willing to volunteer at the Red Cross shelters. Although they didn't have any electricity themselves and were getting by with the help of a generator, they didn't hesitate to help out. Sunday night, they worked at the Nashua shelter from 3-7 p.m., and then returned the next day at 8 a.m. to help out some more.
"We are spontaneous volunteers," Susan Flaherty said.
"They're doing a great job," said Bud Colfer, the shelter manager. Colfer was deployed along with other volunteers from New Jersey to New Hampshire and will be staying here for "as long as it takes," which, he said "could be five days, maybe more."
Colfer talked about the people at the shelter.
"There is a low frustration level," he said. "People are happy. In fact, those that got power have even come back to thank the volunteers."
Colfer explained that it was a group effort at the high school preparing the meals, the Salvation Army serving them, and the Red Cross providing shelter. "I've been to 11 disasters last year and one thing I've learned is that everyone handles disasters resiliently."
Don't forget the toothbrush
Cut out this list and keep it somewhere safe. Based on our recent experience staying at the Red Cross shelter at Nashua High South, there are some items that are definite must-haves, other things would be nice to have and some things you can clearly live without.
For example, although you may want to bring comfort items – some women brought hair dryers, it's not a necessity and this isn't the Marriott.
Food, drinks, books, TV when available, and games are all provided by the shelter. And people soon figure out how to share what they have.
Granted it is a minimalist environment, but there is certain joy in connecting with others in conversation as a source of entertainment and not hearing the constant drone of video games in the background.
So, if you ever need to go to an emergency shelter here are a few things you'll need to bring.
Mandatory:
Toothbrush/ toothpaste/dental floss.
Shampoo, soap, deodorant, towel (although some towels were donated).
Pillow.
Change of clothing including underwear and socks.
Sleep clothing – pants and a shirt – don't bother with anything fancy, you want warm and functional.
Medication.
If there are children:
Stuffed animal for each child – very important for feeling safe
Suggested:
Sleeping bag – blankets are provided but they tend to fall off during the night
Optional:
Laptop – invaluable for keeping track of the outside world.
Radio – we had a hand crank one that didn't use batteries.
Writing material.
Back to normal
Earlier in the evening Monday night, I got a call from my husband. The transformer in our neighborhood had caught on fire and had exploded. I could hear the defeat in his voice as he told me that he and the boys were going to be packing up and joining me in the shelter later in the evening.
My phone beeped at 8:50 p.m.
When I opened the message I saw a picture, it was dark and wasn't that clear but after concentrating, I realized that what I was looking at was a photo of our Christmas tree – lit.
We had power. A huge weight left my shoulders and the breath that I had been holding for the last five days was finally exhaled.
The house was still cold so we planned to keep the youngest kids and myself at the shelter for one more night and then go home in the morning. As word spread around the shelter that we had electricity, we heard many congratulations from people who, although still powerless, were excited to share our good fortune. We were all pulling for each other. A victory for one was a victory for all.
The girls were thrilled as they flitted from person to person to tell them the news. Sleep was not easy due to the excitement of being able to go home again.
In the morning, we had breakfast and started packing up our supplies. Pillows and sleeping bags formed a large mountain near the front door waiting to be taken out to the car.
Hugs and contact information was exchanged with strangers who had become friends and the girls were each given a gift by Salvation Army volunteer Phil Conway, of Nashua.
"They lifted every one's spirits" he said of the kids. "They made people happy. I only have one rule here, if you don't smile you have to leave and these kids made everyone smile."
Conway then handed me a bag of bread, peanut butter, fluff, and pretzels. The food was there to buy me time until I could get to the store to replace the food that we had lost. Such thoughtfulness, such concern.
We hugged, shook hands, thanked everyone and waved goodbye. Then we turned to get into our car to go home.