'Life hasn't been the same'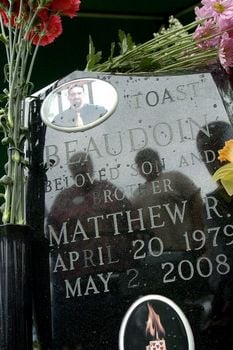 NASHUA – Before, they had only seen her picture in the newspaper.
Norman and Susan Beaudoin couldn't bear to face her in person – the woman accused of killing their 29-year-old son, Matthew.
Last spring, they skipped the first two court appearances of Ivonne Hernandez.
Neither was ready.
Instead, Susan Beaudoin sought counseling. Kept busy with work. Read spiritual books.
But, Beaudoin said last week, she hasn't been able to rest.
"It's been a lot of stress," Norman Beaudoin said quietly, arms crossed in the kitchen of his home on Burke Street. "Confusion and a lot of pain."
And no escape from the memory of May 2, when tragic events linked the Beaudoins' lives inextricably to Hernandez.
There was a late-night confrontation behind City Hall between Hernandez and a group including Matthew Beaudoin. It ended, prosecutors charge, when Hernandez drove her car at the group, striking Beaudoin, who died the next day
of massive brain injuries.
"Life hasn't been the same," Susan Beaudoin said. "It's been turned upside down."
Rene Beaudoin, Matthew's brother, thinks of him when watching poker tournaments on television or big Boston sports events.
He can't think too long about what happened.
"If you immerse yourself in it," Rene Beaudoin said, "it's hard to climb back out."
Last week, though, the whole family dove back in.
Two days before Matthew Beaudoin was finally laid to rest, his family went to face Hernandez in court.
She decided to go at last, Susan Beaudoin said, for Matthew.
Jarring description
At the arraignment in Hillsborough County Superior Court on Thursday, the Beaudoins – Norman, Susan, Rene and his sister, Faith – were joined by about 15 friends and family members. Many wore pins featuring Matthew's picture.
They sat quietly, faces stricken, as Hernandez was ushered in. She wore dark pants and a jacket, her curly hair cropped to the shoulder.
A minute later and from well across the room, Susan Beaudoin cast her first glance.
Two things struck her unexpectedly. First: Hernandez' hair looked darker than in the pictures. Second: She wasn't handcuffed.
"That right there, popping into my head, shouldn't really bother me," Susan Beaudoin said later. "She was there. She wasn't going anywhere. But it was not a good feeling. I felt sick to my stomach, even though Norman, I could tell he was angry and hurt."
Nashua police Sgt. Jeff Maher took the stand, testifying to what police think happened that night.
At one point, he described Beaudoin's injuries: blood, broken legs, shattered skull.
With those words, Susan Beaudoin closed her eyes. Norman Beaudoin's face pinched into tears.
As Maher described the severe front-end damage to Hernandez' car, Faith Beaudoin's hand found her mother's back.
"My heart was aching," Susan Beaudoin said later. "My heart was so tight. My chest was tight. I had to do my breathing, get myself under control. I was jittery on the bench there. I couldn't get myself comfortable.
"I looked at her a couple of times. I won't tell you what I was thinking."
Judge Diane Nicolosi eventually denied Hernandez bail, and Beaudoin pressed a medal of St. Jude to her lips, a piece she says has seen her through many hard times.
"The good Lord is my judge, and justice will be served," she said. "I have a lot of faith, and it's very strong in me. That's what really is giving me the strength to go on."
The hearing over, a parade of tear-stained faces exited the courtroom. Left in their wake was Hernandez' own family, whose faces looked very much the same.
'Can't say goodbye'
"I can't say goodbye to Matthew," his mother said. "I can't right now. I want to hold on and just hold on."
Matthew Beaudoin's funeral was in May, but the burial of his remains was delayed until Labor Day weekend because of cemetery scheduling conflicts.
"My stomach has been in knots," Norman Beaudoin said Saturday. "I've had a lot of time to think on this one."
Mostly, Norman Beaudoin said his thoughts are about the "what ifs?"
What if Matthew were still alive? What if they could ride their motorcycles together? What would it be like if Matthew had children?
He said this as the sun poked through the clouds on Saturday morning and a crowd gathered at St. Louis de Gonzague Cemetery around a shiny black gravestone.
Friends and family dropped flowers and said prayers.
"Life is short," Susan Beaudoin said to the crowd. "We don't know what lies ahead of us . . .
"(Matthew) is reborn.
"He is home."