Let the fun begin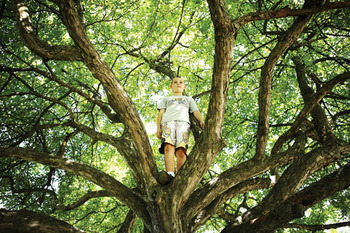 NASHUA – Frank Kochanek stood in line with his four sons for the inflatable bounce house during opening day of SummerFun 2009 at Greeley Park.
Kochanek was one of many who gathered in the park to enjoy the day of free family fun, which featured music, snow cones and, of course, every kid's favorite, the bounce house.
"It's nice to see that Nashua does this kind of thing for the kids," he said.
Kochanek's son Cody, 14, said he was glad he got to spend a day in the sun with his brothers, even if he may be too old to partake in some of the festivities. The other brothers all said they were most excited for the bounce house.
Saturday's celebration kicked off a summer filled with events such as concerts and plays that will last through August.
Many families gathered on the lawn next to the stage not just to soak in the sun, but also to listen to musician Marcus Gale and enjoy a picnic. Gale played songs such as "Take Me Out to the Ballgame" and "This Land is Your Land," among several others.
Some came for the snow cones; some, such as Stephanie Sewhuk-Thomas and her sons Tej, 6; Deven, 4; and Kai, 2, came for the music.
"They're into music," she said as her sons ate peanut butter and jelly sandwiches and drank some juice. "They definitely wanted to come for the concert."
The event wasn't just for parents and their kids, however. Marilyn Belzil, of Nashua, said it was a good opportunity to take her grandkids, Olivia, 3, and Jonathan, 7, out for a nice, relaxing day at the park. Jonathan, who is taking a break from his busy karate schedule because of other summer sports activities, was excited for the Independent Karate School demonstration.
Kids such as Jonathan were also able to get their faces painted by Kris Kokas from the White Wing Preschool/Kindergarten. Jonathan said he did want to get his face painted; he just hadn't made up his mind what he wanted to get.
Some other attractions of the day were a Chick-Fil-A tent, at which kids could win free toys and food; a YMCA table raffling away a free week of summer camp; and for the first time, a Wiffle Ball home run derby.
The derby was the brainchild of Josh Ellison, director of teen services at the Boys & Girls Club of Greater Nashua. Ellison said he attended the SummerFun kickoff in the past, but decided to bring something new to the table.
"I think it's something different," he said. "These kids really don't know Wiffle Ball."
Trentin Thrasher, 14, and A.J. Cantey, 16, both said they would be playing in the Wiffle Ball derby. Cantey even said he would hit every pitch Ellison threw his way for a home run.
Not just there for fun, both Thrasher and Cantey were at the festival early to help set up balloons and tents around the park.
When asked what he thought of the event, in between bites of his grape snow cone, Thrasher said simply, "It's great."
Shawn Cyr can be reached at 594-6523 or scyr@nashuatelegraph.com.