Less mail may mean changes for Postal Service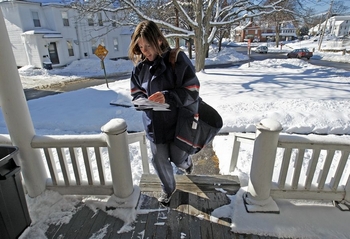 Still expect to see your letter carrier come rain or shine – but maybe at a different time and maybe it will be a different person in blue.
The U.S. Postal Service is reviewing its delivery schedules to adjust for a declining volume in letters and packages. Carriers in cities that include Nashua could have their routes realigned to make their pouches and their work days more full.
No full-time letter carriers will lose their jobs as a result of the change, said Todd Skulnik, a USPS communications coordinator for the New Hampshire and Vermont region. Rather, a realignment will seek to give carriers a full eight-hour work day and allow USPS to cut costs, he said.
The review suggests that some letter carriers have time on their hands. With e-mail replacing the written letter and companies mailing less materials to trim expenses, the Postal Service has seen a drastic drop in business.
In 2008, USPS handled 202.7 billion pieces of mail. That's a lot of holiday cards and shopping catalogs, but it represented a decrease of 9.5 billion pieces – 4.5 percent – from the previous year.
"It is happening all over the country," Skulnik said. "It's a move to adjust the routes to max the volume coming in. It's city mail carriers. They work an eight-hour day by contract. If the volume is less than eight hours, we have to find a way to fill up the day."
USPS will review every city where its carriers deliver mail, including Nashua, Manchester, Concord and Burlington, Vt., Skulnik said. So far, the study shows few routes in these cities need adjustment, he said. "We've been very efficient here in New Hampshire and Vermont," he said.
The delivery of mail in towns and rural areas is not under review.
If changes are made in Nashua and the other cities, the only marked difference customers will see is the time the mail arrives, Skulnik said. Some customers might have a new letter carrier, he added.
"The Internet has had a tremendous effect on us," Skulnik said. "First-class mail service has been affected. The art of letter writing has diminished. And the entire economy is affecting us, as it is everywhere else."
A first-class service stamp for letters weighing not more than an ounce still costs 42 cents, and a postcard stamp runs 27 cents.
The National Association of Letter Carriers reached an interim agreement with USPS to study and adjust routes, according to the union's business agent for New England, John Casciano.
"Mail volumes are declining. They're lower than what we'd be comfortable with," said Casciano, who also cited competition with the Internet, other delivery services such as FedEx and UPS and the slowing economy as reasons for change.
The study should end by Feb. 20, and then USPS will sit down with the union to discuss any changes, Casciano said.
Casciano stressed that because letter carriers lug around less mail, it doesn't mean they are working less than eight hours daily.
"Say if I used to go to your house with 20 letters, but now I have five," he said. "I still have to go to your house."
Casciano and Skulnik said any changes should be "seamless." And Skulnik said letter carriers will not lose jobs. A reduction of hours for part-time employees, though, is a possibility, he said.
"This leaves us flexibility if the economy improves and (mail) volume increases. We can adjust the routes again," he said.