Last Word: Wasting away in Moultonboroughville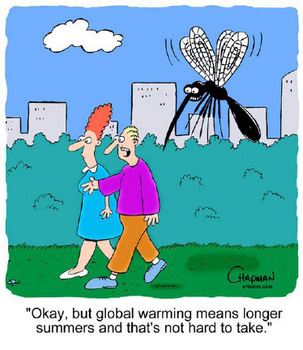 Warmer winters. Longer summers. No more ice-outs on Lake Winnipesaukee. Black flies the size of flamingos. Wait. Those are flamingoes. Cue the dream sequence music.
Welcome to post-global warming New Hampshire. We're still the Granite State. Got a new slogan, though, "Live free and fry." Winter, as we once knew it, is gone.
I miss those late January ski binges at Cannon Mountain. Snowshoeing through Waterville Valley and snowmobiling to Pittsburg. And I still can't get used to seeing Speedo-clad beachgoers at Hampton during Christmas break. But I'm warming up to the idea. New Hampshire folks are resilient. We have to be. After all, tourism is still our bread and butter.
I think you'll like some of the changes warmer climate brings. Watch as New Hampshire reinvents itself to accommodate a year-round average temperature of 80 degrees. Consider the possibilities.
The Super Bowl can finally be held here, as NASCAR race team and Boston Red Sox owner, John Henry, wins a bid to host sports' most lucrative event.
The Keene Pumpkin Festival is retooled, as attendees try to set a new record by stacking the state's new No. 1 one produce item – grapefruits.
Word is that Burt Reynolds may sell his spread in Jupiter, Fla., so he can relocate to Chichester or some other place along Route 4. Yep, Antique Alley would be the perfect spot for you, Burt. Perpetual sunshine will cause other Florida celebs to head north. Expect Jimmy Buffett to move his frozen concoction empire to the Lakes Region. Look for a resurgence in his recording career with, "Wasting away in Moultonboroughville."
There will be a few global-warming casualties. Due to a receding coast line, the Hampton Beach Seafood Festival becomes the Hooksett Seafood Festival. For fans of the Muddy Moose restaurant in North Conway, make way for the Muddy Manatee.
The kids will be bummed as Santa's Village is converted to honor yet another jolly man. Welcome to Jackie Gleason Village. "And away we ho ho ho!"
Many of you will be heartened to know that the annual New Hampshire Snow Sculpting Competition will go on as usual. Snow will be flown in from the moon just in time for the action.
The annual sled dog races in Laconia will be run during the height of New Hampshire hurricane season to test the endurance of dog and driver. Sadly, the New England Ski Museum will be replaced by the New England Parasailing Hall of Fame. Thousands will flock every year for Easter sunrise services at Cathedral of the Palms in Rindge.
For those wondering about maple syrup season, I have some good news and bad news. The bad: No more maple sap. The good news: sugarhouses covert easily to process Hawaiian Tropic sunscreen from New Hampshire's plentiful coconut trees.
Another state institution rolls with the changes. The Deerfield Fair replaces master magician B.J. Hickman with Gloria Estefan and the Miami Sound Machine.
The biggest winner: Tropical New Hampshire is awarded permanent first-in-the-nation primary status.
You can hear Mike Morin weekdays from 5 to 10 a.m. on "New Hampshire in the Morning" on 95.7 WZID-FM. Contact him at Heymikey@aol.com.