Last Word: Upper crust, here I come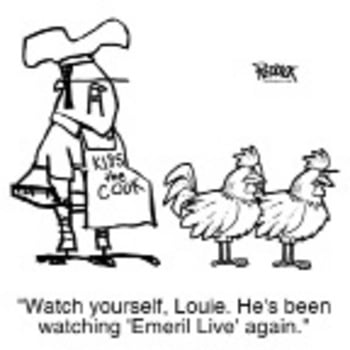 Based on my Christmas presents, it appears those who know me are trying to send me to an early death so I can return as the ghost of Food Network chef Bobby Flay, where I will cook much better food than I do in my current life.
After Barb and I both sustained cooking burns recently, I received a pair of hot oven Amazing Gloves, as seen on TV. In addition to a new high-tech toaster oven, Santa also delivered a Krups espresso machine. Unlike when you buy a new car, I highly recommend that you read the book that comes with this machine. If you don't, you run the risk of blowing the skin off your hands with the latte steam nozzle, unless, of course you're wearing those Amazing Gloves.
Even though she didn't sustain any injuries, Barbara, who I now call Barbarista, didn't exactly get the first lattes quite right. Not a problem. We killed the concoction with Kahlua and watched another episode of Flay's "Throwdown."
The troubleshooting pages of the manual cover everything from noisy pumps to unfrothy milk. We're ditching the book and going with "just add Kahlua" as our default corrective action. I also need to learn about descaling, the process that keeps water mineral buildup to a minimum. I wonder if flushing a couple globs of Crest tartar-control toothpaste through the system will do the trick.
Life was so much simpler when all we had was the Joe DiMaggio Mr. Coffee machine. No brew head, espresso filter or grounds to tamp. The only troubleshooting recommendation with any Mr. Coffee malfunction was "Turn off machine and go to Dunkin' Donuts."
What I really wanted from Santa was a new stainless steel KitchenAid cooktop stove and oven with steam assist.
What is steam assist, you ask? Any bread-maker knows that it's the steam part of the baking process that produces the hard outer crust of those fancy artisan loaves you see at Panera and other bakeries. The cost of this kitchen toy? About $4,000.
It's no secret that my bucket list includes creating a great loaf of crusty bread before I move on and become Flay. Even Tracy, my radio partner, knows this. She bought me a book for serious bread makers for Christmas.
In a few weeks, Barbarista and I will take a daylong bread making course called "Beauty and the Baguette" at the King Arthur Flour Baking Education Center in Vermont. There, I hope to attain the knowledge of creating crust that will break your teeth without breaking my wallet for an oven that squirts steam on my sourdough loaf.
Maybe I'll just use the steam nozzle of my new espresso machine. If that fails, I'll add a teaspoon of Kahlua. Take that, Bobby Flay!
You can hear Mike Morin weekdays from 5 to 10 a.m. on "New Hampshire in the Morning" on 95.7 WZID-FM. Contact him at Heymikey@aol.com.