Last Word: Taking travel personally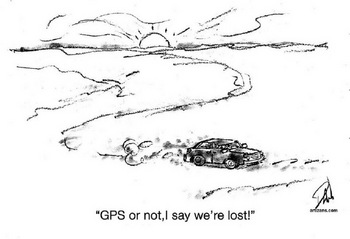 I'd like you to meet my new personal travel assistant. Goes by the name of Garmin. As in portable navigation system. When did GPS devices come to be called personal travel assistants?
GPS sounds more impressive than personal travel assistant.
I like Garmin already. My Garmin nuvi 350 came with a manual that is just eight pages long. That's a good thing, because I'm still plowing through the 600-page "Car and Peace" epic that came with the auto I just bought.
Garmin looks easy enough to set up. The literature instructs me on charging my nuvi, as well as finding destinations, taking a detour and acquiring satellites. ACQUIRING SATELLITES? Back up a second, Sparky. The box it came in doesn't say anything about "satellite not included."
Upon further reading, it appears Garmin can't navigate a route until it connects with one of the orbiting satellites that sends directions to my destination around the block from 22,000 miles away. Huh?
Page 3 of the guide tells me: 1. Go outdoors to an open area away from tall buildings and trees. Great. Do I have to drive to Kansas to get a clear shot to the satellite? 2. Flip up the GPS antenna so that it is parallel to the ground. Cool. Maybe this thing finds buried buffalo nickels, too. 3. Turn on the nuvi.
I like the soothing female voice of nuvi. No need to get one of those TomTom systems with celebrity voices Curt Schilling or William Shatner sneering directions at me.
Garmin was a gift from Barb which I appreciate. Had she not bought it for me, it's not likely I would ever shell out good money for a talking map, I mean, personal travel assistant. Sorry, Garmin. Ever since grammar school, I've had a love of maps. In fact, right behind me is my collection of book maps and some that unfold. I have maps of the eastern United States, White Mountains, Londonderry, Newport, Rhode Island and others.
In a pinch I'll use an online map, though they can be less than reliable, as I found out a few years back when I downloaded directions to a church in Laconia for a funeral I was to attend. Because of a name duplication, I drove to Weirs Beach instead of downtown Laconia. Luckily, I got to the church on time.
As a male, I am genetically endowed with my own internal GPS. No need to ever ask for directions. In my 23 years in New England, I've been lost just twice. Once, I got lost in the rat maze some call Marblehead, Mass. The other lost adventure was trying to locate Castle in the Clouds in Moultonborough. A call to local police helped me get to the wedding on time.
Knowing all this, why did Barbara buy me a personal travel assistant? "So that you'll always be able to find your way back to me," was her sweet reply.
Don't worry honey. I would have stopped for directions.
You can hear Mike Morin weekdays from 5 to 10 a.m. on "New Hampshire in the Morning" on 95.7 WZID-FM. Contact him at Heymikey@aol.com.