Last Word: Manual admission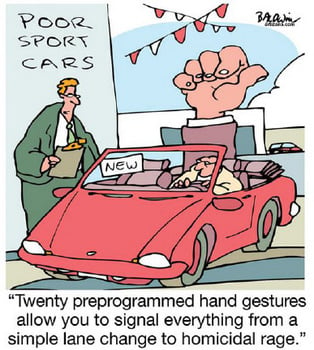 Sleep? What's that? You'll excuse me if I appeared just a bit bleary-eyed today. I've been reading my latest book, all 608 pages of it. Wanna guess what it is?
Here are your choices:
"DaVanci Code"
"Gone With the Wind"
"Car and Peace," the manual to the car I just purchased
If you guessed "c," car manual, congratulations! You win a weekend for four at Benson's Animal Farm in Hudson. I'll even throw in dinner at Hilltop Steakhouse in Nashua.
Here's the lesson I learned following my purchase of a 2006 certified pre-owned vehicle. There is a direct relationship between the amount of money you spend and the number of useless luxury features found on a higher-end car. It takes a book that weighs 1.75 pounds (I weighed it) to make me feel like I got my money's worth. Hell, the book would probably cost $30 alone at Barnes and Noble.
But wait, there's more!
As I continued to explore the leather case that houses my manual, I found more books, including the owner's manual supplement. "Car and Peace, the Sequel," checks in at 136 pages. Suddenly, my reading assignment has climbed to a lofty 744 pages. For a freakin' car.
What's this? More reading? Owner's manual supplement #2: "Lemon Law Information." Tack on another 51 pages. Our new total climbs to 795 pages before I even adjust the mirrors or start the ignition. Two pounds, 9-ounces worth of mind-numbing, page-turning tedium.
As much as I love this new car, I miss the simplicity of my first set of wheels, a green 1962 Chevrolet Bel Air. Cost: $390. Actually, my Dad talked the owner into shaving 10 bucks off the $400 asking price because the odometer was broken. I got $1,200 off my new purchase just for asking. I don't think my Chevy came with a 795-page reading assignment, either.
Let's see what else I didn't get with my humble little Chevy, besides a copy of "Car and Peace," which contains the following sections:
• Bluetooth touch screen, page 230. I doubt it's compatible with my 5-year old Kyocera cell phone.
• Adaptive front lighting system, page 46. How did I ever live without moving headlight beams?
• Intuitive parking assist, page 365. The only parking assist my '62 Chevy came with was from my dad who mumbled something about using protection if I was going "parking" on a date.
• Scrapping your vehicle, page 3. Think I'll skip this section for at least another 35 payments.
• Theft deterrent system, page 40. My Chevy didn't need this option. No one wanted it, including me.
• Driving position memory system, page 198. The Chevy could've used this. It took six guys to move my bench seat forward.
• Vanity mirrors, page 214. Could've used them with my Chevy when I was younger and better looking. Now they're just two more constant reminders of how old I've gotten, or as my manual would put it, "long in the Bluetooth."
You can hear Mike Morin weekdays from 5 to 10 a.m. on "New Hampshire in the Morning" on 95.7 WZID-FM. Contact him at Heymikey@aol.com.