Last Word: Instructive instruction manuals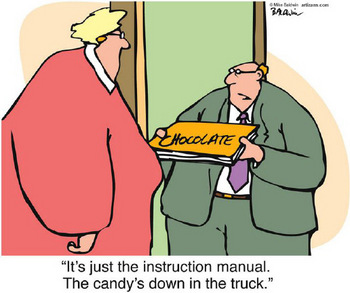 I don't know why I bother saving owner's manuals to things I buy. My gender doesn't bother reading them. A couple of years ago I slogged through the War and Peace-like 125-page tome that accompanied my new digital camera. The garage door opener for my new house has a 36-page guide I have no intention of reading. At 116 pages, the owner's manual for my refrigerator is still shorter than my camera's guide. I shall leave it in a kitchen drawer with the other books about ovens and coffee makers. I'm sure whoever buys my house someday will also ignore them.
Then, I spotted the "Schick Quattro for Women Owner's Manual" that came with my girlfriend Barb's razor. At 22 pages, the sleek "bumper-to-bumper guide to your new high performance razor" has fewer pages than my dishwasher manual, is more informative and funnier than a book of tips on loading silverware properly.
Guys, keep reading. It will help you understand why she's snickering when she's alone in the bathroom. Don't worry. She's not laughing at you. As an added incentive to encourage the reading of this entire column, I promise to tell you what "bathtub tinsel" is shortly.
Now, let me share a few pearls from this book, written by the Quattro for Women Team.
On the inside cover: "((!)) IMPORTANT NOTE: Keep manual near razor at all times – but not actually in the shower because it will get soggy." Props to Schick. I admire corporations that don't take themselves too seriously.
Page 10. "HOW TO GET A HIGH PERFORMANCE SHAVE – Before getting behind the handle, make sure the bathroom is toasty and the water nice and warm. You might even pop in your favorite sultry R&B CD for maximum steam." Guys, this might be a good time to accidentally stumble into the shower, especially if her shower CD player is blasting "Can't Get Enough" by Barry White. You can thank me later.
Page 12. "A SURVEY OF POPULAR SHAVING PATTERNS … The Mother Earth Shave: An often-misguided attempt to channel the allure of the woodlands by not shaving your legs or underarms. This short-lived style ends when winter thaws and the dating season commences." (Let me add that I've noticed blondes are big-time leg-shaving slackers, citing, "my leg hair is so light, I can go decades between shaves." If you say so, Sasquatch.)
Page 15. "QUATTRO LINGO." Here are a few buzzwords in the world of leg shaving. "Chastity pelt, noun: What you have on your legs when you intentionally go without shaving before a date as a way of making yourself behave." "Bathtub tinsel, noun: The ring of itty-bitty hairs and soap film left in the tub after a serious shave." "Psycho, noun: A small, yet surprisingly gory cut from a cheap plastic razor – which creates your own scary shower scene."
Scary? You call a little blood around the drain scary? I think I know what really freaked Norman Bates out in that shower scene. It was the bathtub tinsel.
You can hear Mike Morin weekdays from 5 to 10 a.m. on "New Hampshire in the Morning" on 95.7 WZID-FM. Contact him at Heymikey@aol.com.