Lasky keeps Dems in seat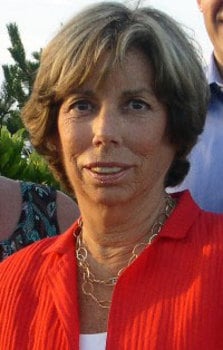 NASHUA – State senate seat District 13 has been a stronghold for the Democratic party and this year turned out to be no different.
Five-term Democratic state representative Bette Lasky defeated Nashua Board of Education member Republican Sandra Ziehm in the race to fill the seat previously held by Democrat Joe Foster. Lasky defeated Ziehm by a margin of 10,370 to 7,280, 59 percent to 41 percent.
District 13 is heavily Democratic, encompassing Wards 3, 4, 6, 7 and 8 in Nashua, and hasn't gone to a Republican in more than 50 years. Foster did not seek a fourth term.
"I'm excited, I'm thrilled," Lasky said, after the results came in. Lasky was at the Crowne Plaza in Nashua on election night and said she was nervous about her first bid for state senate. She has represented Nashua in the house since 1998.
Lasky said she was planning on addressing the deficit and balancing the state budget. But first and foremost was getting some rest, she said.
"I've been campaigning for president and for myself for two years now," she said.
This was also Ziehm's first attempt at a state senate seat and said that although disappointed, "I will live to fight another day."
Ziehm, who was at the headquarters for Jennifer Horn in Nashua, she was proud of her campaign, saying that many Democrats she spoke with told her they would vote for her because of the stances she has taken on the school board. But Ziehm, who owns Harmony Real Estate, also said she was concerned that voters weren't completely aware of Lasky's record in the House.
During the campaign, Lasky touted her experience in Concord, where she had held leadership roles in her party. Most recently, Lasky served as assistant majority leader in the last session.
Ziehm, a member of the school board since 2006, promised to bring fiscal responsibility to Concord, citing examples of unpopular positions against spending she has taken on the school board. She described herself as a "maverick," and tried to paint her opponent as a "tax and spend liberal."
On Tuesday night, Foster predicted his party will "keep governing they way we've been governing and move the state forward."
It's the second election in a row in which New Hampshire Democrats have majority control of the Senate, House and governor's office, Foster said. He said that state Democrats would continue to listen to people's problems and seek resolutions on the pressing issues of the day.
Last week, the state Democratic Party lashed out about a mailer Ziehm sent out that was meant to resemble a newspaper.
The flier, entitled "The Nashua Voter News," included a Ziehm "endorsement" and several attacks on Lasky's voting record. It stated that it was paid for by Ziehm's campaign. Ziehm stood behind the mailer, saying it clearly laid out Lasky's voting record.
"It said very clearly where it came from," she said. "If she's ashamed of her record, then I guess she wouldn't like it."