Lakes Region college has big plans for two programs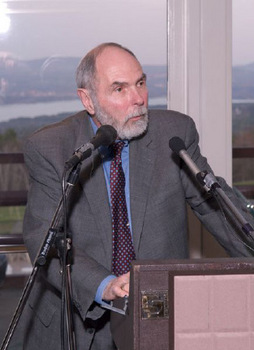 Officials at Lakes Region Community College in Laconia are hoping to greatly expand the school's already popular automotive and marine trades programs with the construction of a new $6 million facility whose classrooms would be complemented by engine laboratories and vehicle lifts.
LRCC President Mark Edelstein is among those leading the charge to convince the Legislature to consider a plan for a 41,000-square-foot facility whose rough plans have already been developed by HKT Architects of Somerville, Mass.
The Community College System board of trustees has already given its blessing to a project that will be placed in the state community college system's 2010-2011 capital budget as a high-priority item.
"This isn't just a dream … it's well thought out, and it's the building we think we need," said Edelstein.
For years, the former New Hampshire Community Technical College-Laconia has enjoyed strong enrollment in a General Motors automotive training program housed in a small building adjacent to the original 1968 building. The program allows students to get a hands-on education in the operation and repair of GM vehicles and offers cooperative programs that places them in shops around the region.
A similar marine trades program focuses on teaching students about Mercury boat engines.
The automotive and marine trades graduates are said to be in high demand and, by the time they graduate, they have already worked in area shops, getting the inside training they need to hit the ground running when they receive their degrees.
Edelstein said the two programs are among the more popular at the school and that a large majority of students remain in the region, working at businesses that need such labor.
School officials say LRCC is growing rapidly. The 2007-2008 full-time student enrollment shot up nearly 10 percent from the previous school year with the grounds now playing host to about 1,940 students whose credits now transfer to four-year schools.
"It's a phenomenal growth rate," said the school president.
Growing popularity
Edelstein said the new building would be located next to the original 1968 building, which is currently in the middle of a $2 million renovation project.
The goal is to create a full-service facility that would provide the space and technologies necessary to generalize the automotive and marine trades programs, making it one of the biggest in the state.
"It would be a much larger program," said Edelstein.
The new, 41,000-square-foot Automotive and Marine Technology Center would double the amount of space currently available to such students, offering a facility specifically designed to meet their needs.
Preliminary building plans call for 21,000 square feet of the new space to be dedicated to automotive technology with a 13,000-square-foot "shop lab" becoming a classroom that would likely appear more like a working garage. Floor plans call for at least 18 vehicle lifts.
The Marine Technology wing would allow space for a boat shop, stern drive and inboard training area and an outboard training lab.
Edelstein said the front of the building will likely be designed to appear like a modern vehicle showroom and will provide a glassed-in space to house an automobile and a boat.
The technology center is part of a more long-range plan to fully develop the LRCC campus on Route 106. Future expansion could include a media center/liberal arts building, small dormitories and playing fields.
One thing that appears certain is that more and more students, especially those in Belknap County, are turning to LRCC and other state community colleges as a more affordable alternative to jumping into four-year institutions.
Data show that 27.8 percent of Belknap County public school graduates in 2006-2007 entered postgraduate programs that will take them less than four years to complete — a number that is the highest in the state.
Edelstein said the reason for the shift is that schools like Lakes Region Community College offer an affordable education in a more intimate setting, with full-time tuition coming in at roughly $5,200.
"As far as for the state and the students … we are the least expensive game in town," said Edelstein.
Tuition at New Hampshire's community colleges has remained unchanged in recent years to maintain affordability, and the cost has been complemented by an ongoing effort by leaders to assure that relationships are established so credits transfer to many four-year schools in the Granite State.
"Cost is part of the equation, but I think this is also a recognition of the quality of education. Our classes are smaller and we are designed to provide individual attention to our students," said Edelstein.
State officials like Gov. John Lynch appear to be noticing that the community college system is producing highly skilled workers who stay in the state, as they are repeatedly approving capital projects at the various institutions.
Geoff Cunningham is a staff writer for the Laconia Citizen.