Laconia Savings embarks on a new era of growth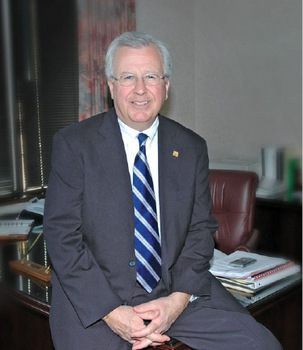 Laconia Savings Bank, the largest independent bank in New Hampshire, is entering a new era in its storied 176-year history with the recent appointment of Mark Primeau as its new president and chief executive officer.
And Primeau, who took the helm of the bank in March, has hit the ground running, with plans and expectations to make Laconia Savings grow and continue to thrive.
A full-service bank that offers a full range of services both for consumers and a commercial customers, as well as trust and investment services, "Laconia Savings is an absolutely terrific bank," said Primeau. "We're strong. We've got a terrific team with a great deal of expertise and a great deal of enthusiasm, and I think they've been able to demonstrate to customers — on both the consumer side of the bank and on the commercial side — just how terrific it is."
Primeau has some 30 years of banking industry experience – the last 19 of them as an executive with Eastern Bank, a $6.5 billion mutual bank based in Boston. In a way, he sees his new job as easy – simply follow a path paved by the bank's board and his predecessors, who have "built an extremely strong foundation," he said. "My strategy is to continue to build on that foundation."
One of his main goals is to see that Laconia Savings, which now has 17 branches, continues to grow. "We have a footprint that goes well beyond Laconia," said Primeau. "We have a franchise throughout the southern half of New Hampshire, with locations in most of the major cities and towns."
Primeau eventually sees Laconia Savings filling in any blanks in the bank's branch map, with plans to either open its own branches — or buying them from competitors — in areas like Keene and Portsmouth, where the bank as yet does not have a presence.
And while "there's nothing on the drawing board right now," he expects that at some point the bank will have a presence in Manchester itself.
While Laconia Savings already has a branch in Bedford, Manchester, he said, "is the state's largest city, and we're the state's largest independent bank, so it makes sense that we would have a presence there, sometime in the future."
The reason for his confidence is Laconia Savings' built-in advantages.
Because of its size, "we're able to deliver customer-centered customer service, particularly to our small- and medium-sized business customers. That's what sets us apart."
Another advantage is Laconia Savings' status as one of the few remaining mutual banks in the state. That means, said Primeau, "we don't have stockholders, so our focus is solely on our customers, our communities and our employees. We're not governed by Wall Street — we're governed by Main Street, and that makes a difference in how we operate the bank."
And that's just the way the bank's new president and his board want it.
"We are adamant that we are going to remain a mutual institution, and in so doing we take the longer-term view. It lets us really focus on our customers better, and our communities and our employees, who are really the most important asset the bank has. That's what it really comes down to in the end — the people, the sales and the service."