Kindergarten fate goes to polls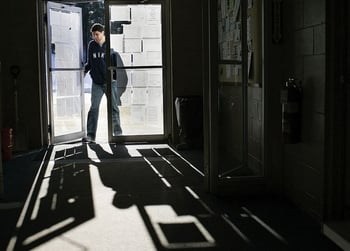 HUDSON – The decision on whether Hudson will have public kindergarten this fall is now in the hands of voters.
After nearly two hours of discussion by school board members and about 15 of the roughly 80 residents attending Saturday's school district Deliberative Session at the Lions Community Center, residents approved a measure that puts the kindergarten question on the ballot for the March 10 election.
The measure, drafted by SAU 81 Superintendent Randy Bell and presented by School Board Chairman Dave Alukonis, is an amendment to a petition ar-ticle initiated by longtime kindergarten advocate Donna Ohanian, which became Article 9 on the district warrant.
The amendment calls for an appropriation of roughly $1.23 million to im-plement half-day public kindergar-ten starting in September. The figure includes funding for 270 students, lease of portable classrooms, teacher salaries, bus transportation and other costs.
The funds could be drawn from various sources such as state or federal aid, and grants and donations, the amendment states, but most agree that the majority would likely have to come from taxpayers.
>>Town Meeting '09<< Ohanian's article, which included slightly higher dollar figures from her original version, called for roughly $805,600 for half-day kindergarten. The total doesn't include portable classroom rental - Ohanian believes there'd be enough space without them - and accounts for fewer buses. Now, the obvious question: Will the outcome of March's kindergarten vote affect the School Board's "unfunded mandate" suit against the state Department of Education? According to School Board attorney Gordon Graham, a "yes" vote for kindergarten would mean the district would agree to fund kindergarten and would therefore render the suit moot. Should kindergarten be voted down, however, the School Board could continue pursuing the suit, Graham told voters. The first article of the day, the district's overall operational budget of $41.5 million, and Article 2, concerning raises and benefits amounts for teachers covered by a collective bargaining agreement, drew several comments from residents on both sides of the issue. There was little discussion on the following five articles, which set the stage for the emotional, and sometimes heated, debate on the kindergarten articles. The Budget Committee, in its traditional post-session caucus, voted 6-4 with 1 abstention to recommend Article 2 - increases in salary and benefits for unionized teachers - for passage in March. On Article 9 - the kindergarten issue - the committee opted to stand by its previous vote to not recommend the article. The School Board, meanwhile, voted in favor of deferring, until Monday night's regular board meeting, its vote on whether to recommend Article 9. While her original article was overridden, Ohanian said her main goal - letting voters decide on kindergarten - was nonetheless accomplished. "That's what I wanted to happen in the first place," she said after Saturday's session. "I'm happy that things turned out this way." Alukonis, in speaking about the amendment during the session, voiced his support for implementing kindergarten - if it's done right. "If we're going to have this (kindergarten question) on the ballot, then we need to have accurate numbers out there as to what it would cost," Alukonis said. "I don't like portables - I don't think anybody likes portables - but my feeling is that if we're going to have kindergarten this fall, we need to do it the right way, and this is the right way." Alukonis also raised his concerns with the short window between July 1 - the start of fiscal 2009-10 and the earliest that kindergarten funding would be available - and the start of school a mere two months later.