Kids rule at Nashua Children's Day, share food, listen to music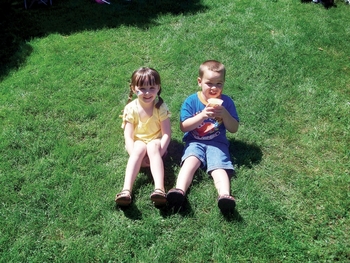 Music, ice cream, bounce houses and a watermelon-eating contest: every kid's dream. Children's Day at Greeley Park made that dream a reality for many local kids on Saturday, but the event was about a lot more than just junk food and entertainment: It was also about family.
Kids of all ages enjoyed the much anticipated summer weather with their parents, grandparents, great-grandparents, cousins and siblings.
"We came here to let our dog run in the park and we saw this whole party," said Christian, a 12-year-old from Nashua, who was there with his parents and 8-year-old sister, Erin. "It's been really fun."
Children's Day is part of the SummerFun series of events in Nashua. It offered many events for kids and their families, and had the perfect weather to get the children out of the house and enjoying summer.
Folks from as far as Bedford and Amherst filled the historic park, which was scattered with children holding – and popping – balloons, and families sitting on blankets eating carnival-themed treats and enjoying the live music provided by Wayne from Maine. The musical duo even allowed kids to come onstage to sing and dance with them.
Lines for concessions were long, but moved swiftly, for snow cones, ice cream, fast-food restaurant that also is a sponsor of the SummerFun series.
"I wanted to go in the bounce house and slide," Shaelyn Villareal, a 5-year-old from Amherst who was there with her grandfather, said about why she wanted to attend Children's Day. And, "I get ice cream."
Children's Day started at noon and went until 3 p.m. New Hampshire-based radio station 95.7 WZID, which also is a sponsor, had a van and a tent set up right by the stage, and a life-sized "cow" walked around the park to provide some moving entertainment for the kids.
Certain events were scheduled throughout the day, such as a self-defense demonstration by the Independent Karate School; a Really Sticky Egg Toss; B.J. Hickman, Trickster Extraordinaire; and the Wicked Awesome Watermelon Eating Contest. All brave and hungry kids were welcome to lend their chomping abilities to the competition, and were given one giant slice of watermelon each to eat as fast as they could.
During the three-hour event, a bicycle parade also took place, and all were welcome to decorate their bikes and join in the procession.
Children's Day "encourages participation," said Mike Aranda, who works for Triangle Credit Union in Nashua and who brought his 3-year-old daughter to the event.
Greeley Park is chock full of events throughout August, including The Rampage Trio, a blues, rock boogie and dance band performing at 7 p.m. Monday and the 57th annual Nashua Area Artists' Association Art Show on Saturday-Sunday, Aug. 15-16.
For a full listing of upcoming SummerFun events, visit www.gonashua.com.
Other major sponsors include Fidelity Investments, St. Joseph Hospital, the City of Nashua, Dartmouth-Hitchcock Nashua, the Nashua Public Library, The Telegraph and the Triangle Credit Union.