Kids learn healthy living the fun way at athletic club finale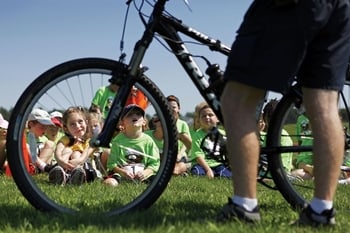 In between activities at Saturday's Fitness University Finals Day, Garrett Earley and Ethan Platt stop for a moment to enjoy a refreshing cup of cold water. The boys, both age 10 and from Amherst, were relaxing in the sun after a demanding mile run around the Nashua South High School track. When asked what his favorite part of the day so far was, Platt said, "maybe me coming in fifth in the race."
"It's better than playing video games all day," Ethan said.
Garrett just loved the experience.
"For the running for me, it's not really about winning, it's about having fun," he said. "I want to be faster in the sports I play, so I run more."
The event, put on by Gate City Striders running club, saw about 450 participants ages 3-14 take part in the day's events. There were five events, or races, in which the kids were separated into different age groups to run anywhere from 100 meters to a mile. When the kids weren't racing, they were playing dodgeball or watching a demonstration on bike and helmet safety.
Club president Michelle Poublon said she loves hearing feedback like Ethan's and Garrett's. Finals Day was the last event in the 8-week Fitness University program, which meets every Tuesday in an attempt to get kids committed to a healthy lifestyle at an early age. Poublon said the program is designed to incorporate fun and games into physical activity.
"I think it's hugely important to put the emphasis on fun," she said. "For some kids, going out to work out or to run doesn't sound that attractive, so we have the kids play games or run relay races instead."
"They may actually do as much running, if not more, while doing things like running next to their friend to touch a cone and come back in a relay race, as they would just running around a track for an hour."
This year's Finals Day was the Striders' 19th and was sponsored by the Southern New Hampshire Medical Center.
Taralee Neve and her 9-year-old son Seth, of Hudson, said the free event is a yearly staple for them.
"We've been coming to this for three or four years now," Neve said. "The kids start asking about it in early spring."
"And definitely the fact that it's free is also huge."
Seth said his favorite part of the day was definitely the dodgeball games.
"I like the part that you're jumping and all over the place and dodging the balls," he said, as he hopped to the side.
He said he liked the event because it allowed him to spend time not just with his two brothers and 4-year-old sister but also his friend Zachary Davis.
Zachary, 9, from Litchfield, said his favorite part was finishing the races.
"I kind of got tired at the last lap, but I finished, so I like that," he said.
Although the two boys said they both loved dodgeball, it was unclear about who would emerge victorious if the two titans of the game were to face off.
"I usually beat him," Seth said. "I got him once when he was throwing."
After a brief demonstration, the two friends agreed it would probably be a draw.
Back at the water table, Garrett said that he liked the event because it allowed him an opportunity to see people he doesn't normally get to see. People like 10-year-old Samantha Serales, of Merrimack. Samantha had also just completed the mile run and was sipping a Capris Sun, while talking to Garrett and Ethan.
"This is my fourth time here," she said. "We're having so much fun."
Samantha said she loves politics, running and eating healthy. One day, she even hopes to ride in the Tour de France.
"That's not for girls," Ethan said.
"I'm talking about when I get older," Samantha countered. She threw away her empty Capris Sun pouch and went to prepare for the next race.