Kids count in Nashua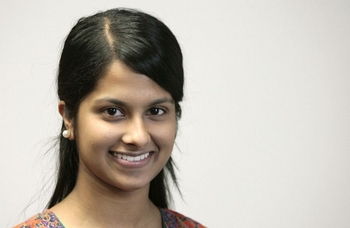 NASHUA – Samita Mohanasundaram knows what parents are thinking when they hear about a proposed national children's day.
"Every day is children's day!" she exclaimed, mimicking a mother's voice.
But that won't stop Mohanasundaram, a junior at Nashua High School North, from seeing that Children's Day becomes a nationally recognized day.
The first step in that process will be Saturday, when the city will host its first Children's Day.
"Children are the leaders of tomorrow, so I feel that we need to educate and inspire and recognize children around the world," Mohanasundaram said.
While most kids are probably hoping that Children's Day would grant them a day off from school with prizes such as homework passes, that isn't exactly how the day works.
Mohanasundaram has been urging local businesses to contribute to the event by offering discounts or coupons to children who visit their stores that day. In addition, she suggested that local businesses set up informational tables in their stores.
The Children's Day Web site, www.mychildrensday.com, also has tips on how people around the city can help out.
"My main goal is to work with regular people to see how they can influence students in their own community," said Mohanasundaram, who has been involved in community service for more than nine years.
The unofficial headquarters of the day will be at Greeley Park, where Mohanasundaram has teamed up with Lights On After School, a nationwide event that emphasizes the importance of after-school programs by having a carnival free to the public, with food, games and prizes.
This is the fifth annual Lights On After School event in Nashua. According to Nashua's recreation program manager, Tom Dwane, Mohanasundaram received permission from the city to join forces with Lights On After School so she could further promote Children's Day.
Dwane, a Lights On After School committee member, said the recreation department is encouraged by Children's Day's potential.
"Anything we can get involved in to recognize kids, we're excited to do," said Dawne, a Nashua recreation employee for five years.
The city was so eager to become involved in the Children's Day project that it appointed Christine Lister, Nashua's child-care coordinator, to help Mohanasundaram plan the day.
Lister has been impressed with Mohanasundaram's dedication and direction.
"I was asked to work with her on the event, but she's really the lead," Lister said. "The city is here to support her in her efforts. I know it will be small beginnings, but she has terrific visions of how (Children's Day) could be down the line."
Becoming a nationally recognized day will be a long and arduous process. Mohanasundaram said she appreciates all of the help she has received from the city, including Mayor Donnalee Lozeau, who issued the proclamation that officially recognized Children's Day in Nashua.
Mohanasundaram hopes the first Children's Day will be a success and possibly expedite the process of national recognition.
"We're working through the state to make this a nationwide day," Mohanasundaram said. "It's going to start in Nashua, but spread throughout the whole nation."
While she is enthusiastic about the possibility of the idea spreading, Mohanasundaram also understands it's a long process. She anticipates that the idea of Children's Day will first have to disperse throughout the state and then bordering to states before it reaches the national level.
Regardless of how long it takes, Dwane believes Children's Day is an idea that is worth seeing through.
Children's Day "should be nationally recognized," he said. "Anytime you can recognize kids, it's a good thing, and I'm all for it."