Keene men convicted in hats in court case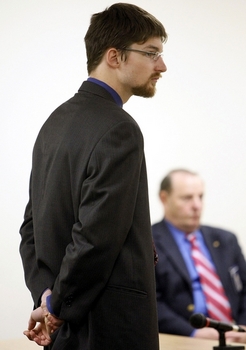 MILFORD – The great hat spat reached its conclusion Wednesday afternoon in Milford District Court.
Two Keene men arrested after failing to remove their hats at the court on Feb. 2 were convicted on misdemeanor disorderly conduct charges.
The two are part of a group that believes in limited government. The group was at the court Feb. 2 to watch another case.
Corey Moloney, 21, and Charles Gerlach, 19, represented themselves before Judge Paul Moore. About two-dozen supporters came to watch the trials.
After hearing the cases, Moore followed Milford police prosecutor Michael McCall's recommendation to sentence the pair to the day of time they already spent in custody. McCall reasoned the men had already given up liberty to make a point.
The light sentence apparently disturbed Gerlach, who argued for a harsher sentence for himself in his closing remarks.
"I have no defense, and I do not recognize my actions as criminal," said Gerlach. "If you think I'm guilty, you should give me the maximum sentence."
Disorderly conduct is a Class A misdemeanor that carries a maximum sentence of a $2,000 fine and a year in jail.
According to testimony Wednesday, Moloney remained in the courtroom with a winter hat on, despite being asked repeatedly to remove the hat or leave.
During Moloney's trial, McCall played an audio recording of the incident in which Moloney said he refused to remove his hat for "moral reasons."
After the trial was over, Moloney explained that the moral reason was that he should have been allowed to keep the hat on since it wasn't hurting anyone.
According to testimony, just after the Moloney incident took place, officials began dealing with Gerlach.
Gerlach was standing in the doorway to the courtroom with his hat on and refused to move out of the way of people coming in and out of the courtroom, court security personnel testified.
The defendants conducted themselves differently in the courtroom Wednesday.
Moloney, dressed in a business suit, was calm and pursued questions about his Miranda rights. His performance even earned praise from the judge after his sentencing.
"You did a nice job," Moore told Moloney.
Gerlach was dressed casually and was more emotional. His lines of questioning were at times hard to follow.
At one point, Moore said Gerlach was asking, "fragmented compound questions.
The trial had to be delayed for several minutes after he broke down in tears. After the trial, Gerlach said he was frustrated he wasn't allowed to get all of his questions out.
Moore allowed the men to call witnesses despite McCall's objection that both failed to put anyone on the witness list.
However, neither of the men's witnesses was able to recall anything useful to the prosecution.