Joint initiative seeks to stem N.H. 'brain drain'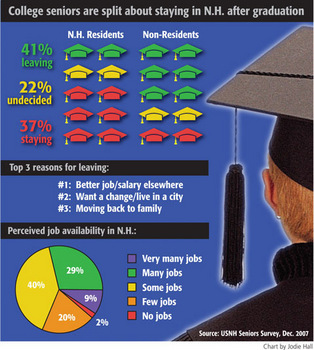 You've seen the reports. Nearly 50 percent of New Hampshire's college students leave the state after they graduate. For a state that's getting grayer, that's not a good sign.
The big question is: How do we keep our young people in state?
New Hampshire is by no means alone in its "brain drain" predicament. Based on an informal review by the New Hampshire College and University Council, most states in the country have acknowledged the need to work to keep college graduates at home, and as many as 11 have some sort of program in development or put into practice to retain graduates.
The answer for the Granite State may be in the 55% Initiative — an effort formed by the NHCUC, businesses, young professionals groups and other stakeholders across the state. The initiative is aimed at enticing 55 percent of the state's graduating college seniors to live in and work in New Hampshire.
The initiative faces a daunting battle. According to a survey of 1,121 seniors conducted by the NHCUC, UNH Survey Center and the New Hampshire High Technology Council, 41 percent of students graduating from undergraduate programs indicated they are likely to leave, 37 percent said they wanted to stay and 22 percent are undecided where they are going post-graduation. (A companion survey of 2,011 alumni who graduated between May and November 2007 showed some similar trends.)
It is the undecided 22 percent that the 55% Initiative will concentrate on.
According to the survey, while 94 percent of students and recent graduates say they like the quality of life in New Hampshire, many believe there are few jobs available in their chosen fields and feel that what jobs there are don't command the same salaries that they can find elsewhere.
Businesses and schools insist that there are plenty of good-paying jobs. But what colleges and businesses consider "good-paying" and what graduates do may be two different things.
For the purposes of the initiative, Matt Cookson, the University System of New Hampshire's associate vice chancellor for external relations, the average annual salary for New Hampshire graduates of four-year institutions is $45,000.
But how new graduates have formed the opinion that there is a dearth of jobs and lower pay — and what they are anticipating for salaries — are still questions that need to be answered.
Of course, the new grads aren't completely wrong in their views, according to Cookson, who said that, by and large, salaries in the Granite State are some 6 percent lower than in the nearby states of Massachusetts and Connecticut.
Looked at in terms of personal income per capita, New Hampshire residents earned $37,835 in 2005, the most current figures available through the New Hampshire Economic and Labor Market Information Bureau. In Massachusetts, per capita personal income in 2005 was $43,702, and it was $47,519 in Connecticut.
Although New Hampshire's salaries are slightly lower, the cost of living is much lower, said Cookson. For example, according to Monster.com, the cost of living and working in Manchester is 38 percent lower than the cost of living and working in Boston.
Affordable housing is another significant issue new graduates face. The survey found that nearly one-fifth of students who indicated they were leaving the state rated this as among their top concerns.
If the average salary of a college graduate in New Hampshire is $45,000, this translates into roughly $865 a week before taxes. Using the old rule of thumb that one week's salary should be the equivalent to one month's housing expenditure, the issue quickly becomes apparent.
Interestingly, 77 percent of students who decided to stay said cost of housing was an important factor affecting their decision.
"Many new graduates, if they are not moving back home, are having to share housing expenses versus having their own apartment," said Cookson. "Although there are resources out there, it can be difficult to find a roommate."
Cookson admitted that more could be done both by academia and the business sectors in marketing directly to graduates about the virtues of working and living in New Hampshire.
"We'd really like to increase the number of job fairs," he said.
Another way students and businesses can get to know each other is through internships. But with 96.8 percent of New Hampshire's businesses considered small according to the U.S. Small Business Administration, do they even have the time to put together a structured internship, much less actively pursue would-be workers?
"This is why we're working so closely with chambers of commerce and with other organizations like the High Technology Council," said Cookson. "Small business engagement in the issue is so important."
One of the more promising ideas being touted by the initiative is a Web-based jobs board, connecting students and graduates with positions available at New Hampshire businesses.
And while some sort of partnership with sites such as Monster.com is under consideration as well, Cookson said an important factor is to keep the site free for employers to post their jobs. (The initiative is by no means looking to reinvent the wheel, though. Sites that already exist like the job match site managed by the state Department of Economic Security may also serve as templates.)
Another way of selling the attractiveness of New Hampshire to students involves basic marketing: Why not tout the positives of the state to students in the same way the state is marketed to tourists?
Toward that effort, Cookson and professors at the University of New Hampshire in Durham and Manchester, Plymouth State University, Keene State College and Southern New Hampshire University and 115 of their marketing students are collaborating to develop a "work, play and stay" campaign.
The projects will be due in the spring.
"They are really engaged in this project," said Cookson of the students. "It will be really interesting to see what they come up with."
For more information on the 55% Initiative, visit the Web site of the New Hampshire College and University Council at nhcuc.org. Graduate and alumni survey results may also be downloaded from the University System of New Hampshire Web site at www.usnh.edu.