Job market has grads tense, glad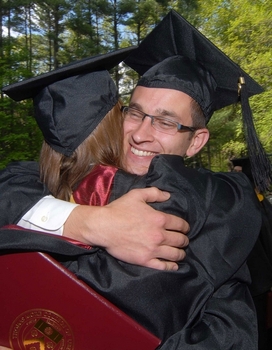 MERRIMACK – After a windy and stormy Saturday, the 22 graduates of Thomas More College and their families had sunny skies Sunday, but clouds of another sort have hung over the college recently as seniors worry about finding jobs in a lackluster economy.
The college also had a dose of upheaval when college President Jeffrey Nelson abruptly resigned in April. Patrick Monaghan, chairman of the college's board of trustees, said Nelson resigned due to "battle fatigue" following attacks from some in the college who were unhappy with changes he made. But Sunday it was about the students, and Matthew Skidd, who was in their shoes last year, had some advice for the graduates at the commencement ceremonies: Find a good graduate program. "If you have any intentions of continuing to grad school, do it because the job market is bad right now," said Skidd, a 2008 graduate of the Merrimack school. "Duck the economy. It's a good time to go to grad school."
That's exactly what John Paul Hammond intends to do. He's planning to enroll at Villanova University in the fall to study political science.
He said there is some stress among the graduates about finding jobs, but he, like several people at the graduation, said they feel well prepared for the challenge even if a dream job doesn't come along right away.
"The economic climate could give a graduate cause to worry," Hammond, a 22-year-old Burlington, Vt., native said. "But I think my education here has given me a good foundation."
"It's been a trying semester for people at Thomas More," graduate Michael Lichens said. "It's a very frightening world out there. We all see the figures. I know we've been putting out resumes anywhere we can."
Lichens, a Boulder, Colo., native, said many graduates have accepted that they may have to take the first job that comes along before finding something that will advance their careers.
But aside from those worries, many parents and friends were simply proud of and excited for their graduate. "It's exciting," Hammond's sister Mary said. "I think he's ready to move on and ready for the change."
Karen Lagasse and Anne Hieronymus, both of Bedford, spent a few minutes before the ceremony talking. Hieronymus said this is old hat for her. Her son Mark is the eighth in his family to graduate. Sunday was a little more emotional for Lagasse, who was watching her oldest son Jeremy graduate.
"I've been weepy," she said. "He's my oldest. I've been a lot more emotional, just to realize how fast life goes by."
Several parents were as confident as their children that they would be able to overcome a bad economy, eventually.
"It might take longer than in a different market," Lagasse said. "It might take six months or a year, but it's there. He'll end up doing what he's meant to."
After a Mass and lunch, the actual commencement ceremony began, topped off by comments from Cardinal Bishop of Velletri-Segni Francis Arinze.
Arinze became bishop of Velletri-Segni when Cardinal Joseph Ratzinger vacated the office when he was elected pope.