It's down to final 4 hopefuls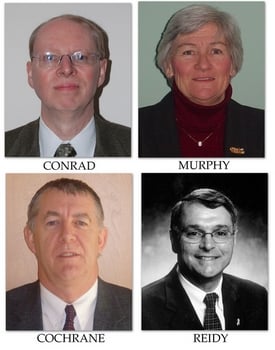 NASHUA – Three of the four superintendent finalists said they are opposed to the school district's policy of grouping students by ability in the middle schools, a process referred to as leveling.
Members of the Board of Education spent Tuesday and Wednesday evenings individually interviewing the four finalists to replace Christopher Hottel as the district's next superintendent.
The finalists are:
Brian Cochrane, director of accountability and assessment for the Nashua School District.
Mark Conrad, chief financial officer for the Bedford School District.
Kathleen Murphy, director of the division of instruction for the New Hampshire Department of Education.
Robert Reidy, superintendent of the Mahopac (N.Y.) Central School District, a 5,000-student district 50 miles north of New York City.
Need more information?
As part of the interviews, which were held in public at the school district's central offices on Ledge Street, board members asked all of the finalists the same nine "core questions."
For one of those questions, the board asked the finalists to weigh in on a controversial debate that has been going on in the district for the past year: whether students should be leveled at the middle schools.Cochrane, Conrad and Reidy all said they were opposed to the practice and would prefer students be mixed together at the middle schools.
Cochrane said he preferred that students not be leveled, or homogeneously grouped, until they get to high school. He added that if there were to change to heterogeneous grouping, it couldn't be done overnight.
"If you tried to take our teachers now and impose a nongrouping situation on them, it would be a disaster," he said.
Currently, middle school students, starting in sixth grade, are placed into three different levels of classes based on their perceived abilities.
All of the four core courses are leveled. The lowest level is foundation, followed by extension and then honors classes.
Data provided by the school district has shown three groups of students – poor, special education and Hispanic – are significantly overrepresented in the lowest-level courses.
Data has also shown that 40 percent of all grades handed out in foundation courses last year were Fs.
"I know the data well," Cochrane said. "The fact is that foundation students are not being well served in those classes, but it's hard to serve them well in any situation."
Conrad agreed. Most middle schools are not leveled, he said, and if they are, it is only in math or science.
Conrad said his concern is that students are at an age in middle school when they are sensitive to how others view them. If there are three levels and you're a student in the lowest level, it doesn't take them long to perform to that level, he said.
"I think it's too early to begin to put kids into that position," he said.
Like Cochrane, Conrad said such a significant change should come only after considerable review. He proposed the idea of piloting mixed classes at one of the middle schools and looking at the results.
Conrad said there could also be honors options within those mixed classes.
Reidy told the board that he is strongly opposed to ability grouping, arguing that when all kids are held to the highest levels, more students will perform to that level.
"We cannot be so arrogant as to judge kids," he said. "That's not our job. Our job is to teach kids."
Reidy said separating students based on ability does a disservice to the high-end learners and the rest of the students because they can both learn from each other.
Murphy said she doesn't support one philosophy over another because that just puts you into a trap.
"We really need to follow each child," she said. "If you say you support heterogeneous grouping or homogeneous grouping, you're not advocating for the personalizing of education for the child."
The Board of Education's curriculum committee has devoted several meetings this year to reviewing the district's middle school leveling policy. The issue has proven to be divisive, with supporters and opponents of leveling speaking out.
Opponents argue that by separating students by ability, teachers are able to provide a level of instruction more suited for each group of students and that mixing students would overburden teachers and dilute education.
No official action has been taken by the Board of Education on the policy.
Leveling was just one of several topics brought up during the interviews, each of which ran for about 90 minutes. The finalists were given four minutes to answer each question.
Among the other questions asked of each finalist was for them to describe their management styles, what makes for an effective relationship with the school board and their experience with labor negotiations.
The Board of Education expects to make a decision by the end of the month, after site visits and criminal and financial background checks have been completed.
Cochrane
Cochrane, 52, lives in Goffstown and has worked for the school district for nearly two years, overseeing the district's accountability and assessment department.
Before coming to Nashua, Cochrane worked as the associate vice president for academic affairs for Southern New Hampshire University. He also previously worked for the Nova Scotia Department of Education.
"One of the great strengths I bring is that breadth of experience," he said.
With regard to the district's performance on the New England Common Assessment Program, Cochrane said the district has made significant gains in reading, but still has a lot of work to do with math.
"The perception is that some of our schools are failing, when in fact they've never been more productive," he said.
Each finalist was asked to describe the most difficult decision they have had to make as an administrator. For Cochrane, it was recommending someone for termination who was on the hiring committee that brought him into a former position.
While the person was well liked, "it was unquestionably the right thing to do."
Cochrane did not use any specific names, but said the person was just not performing to the level that was required of the job.
Cochrane also said he felt he would have the ability to be able to go out into the community and build coalitions to help support the school district.
"I think I'm a pretty engaging person, and that's part of my management style," he said. "There's nothing that I'm not willing to put on the table."
Cochrane said he envisions being in the position for 12 to 15 years.
Conrad
Conrad, 50, lives in Nashua and worked for the Nashua School District for 10 years as its business administrator before leaving in 2006 to go to Bedford.
Conrad said he wanted to return to Nashua because he sees the position as an opportunity to make a difference in his community.
Board member Sandra Ziehm asked Conrad if he had any regrets during his time working under former Superintendent Julia Earl.
Conrad was the business administrator when Earl was placed on paid administrative after questions arose about her use of public money for travel.
Conrad told the board Tuesday night that he brought some of his concerns to Earl. If he had seen illegal activity going on, Conrad said he would have gone beyond that.
"I didn't see that," Conrad said. "There was a disagreement in judgment perhaps."
Although Conrad left for Bedford within a week of Earl being placed on paid administrative leave, he told the board he had started the process of looking for a job several months earlier.
Board member Steve Haas asked Conrad what he could bring to the position other than his experience working with budgets. Conrad pointed to his early work as an administrator in early education as a director of child development.
Since leaving Nashua, Conrad said he has been pursuing his certificate of advanced graduate study, which has involved studying the latest in education research and trends, he said.
Conrad said that while his work for the past 20 years has been as a business manager, he has approached the job from the perspective of trying to improve education for children.
"That's one of the reasons I want to become superintendent," he said, "so I can advocate for kids."
Conrad said he expected to be in the Nashua position for at least 10 years.
Murphy
Murphy, 60, worked in the Nashua School District for one year as an instructional supervisor before leaving to become superintendent in Newmarket in 2003.
She stayed in Newmarket until 2008, when she started at the state Department of Education. Murphy said that to have an effective relationship with the school board, the roles have to be clearly defined.
"When the roles of those folks are clear and articulated, the relationship can have a good solid foundation," she said.
Murphy said she has experience in negotiating contracts from both sides of the table. During her time as superintendent in Newmarket, Murphy said that they were able to do their contract negotiations without getting lawyers involved.
She said she met with union leadership monthly to go over any concerns so when it came time to negotiate the new contract, there weren't any surprises.
"I want to know what issues are out there," she said. "If you're going to solve the problem, you need to know what the problem is."
During her first few months on the job, Murphy said she would want to meet with several of the city's major leaders, such as the police chief, fire chief and the mayor.
"Ask them where they see us going and how can we improve what we're doing here," she said.
The city's diversity is one of the city's strengths, Murphy said.
"There has to be continued outreach to the neighborhoods and ethnic communities," she said.
Reidy
Reidy, 63, was a superintendent in Peterborough for eight years, from 1980 through 1987, and was raised Worcester. He is retiring from his position in New York and said he could commit to Nashua for five to seven years.
Reidy described his management style as "highly visible, out and about." He lets people do their work, but when someone isn't performing, Reidy said he is very up front about that.
When asked about the city's growing diversity, Reidy said that while his district isn't nearly as diverse, he has some philosophies he thinks work well for instruction students whose first language isn't English.
Some of the best programs involve teaching students in their native language and English at the same time.
"I think that dual approach is probably the best approach," he said.
He said it's important to be honest with the school board and provide the good news and the bad news.
"Tell them the good, the bad and the ugly," he said.
Reidy said it's important to him that the board gets information before it hits the newspapers.
Haas asked Reidy about comments he made to his hometown newspaper last year about not wanting to pursue a permanent superintendent position after retiring.
Reidy told the Putman County Courier last June that, once retired, he didn't want "the pressure associated with a 24-hour-a-day, seven-day-a-week position. I've been 24-7 for over 31 years."
Reidy said the quote was correct, but said he had since had a change of heart.
"I'm not ready to retire," he said. "I have a lot of fire in my belly."