It's a sweet season for apple picking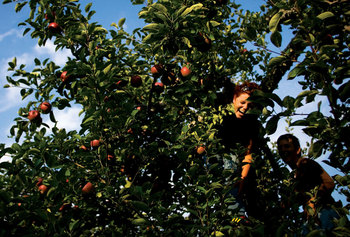 MILFORD – Call them the apple experts. The girls of Scout troop 22667 have apple picking down to a science.
Six members of the Girl Scout troop, based in Mont Vernon, were at McLeod Brothers Orchard in Milford on a brilliant day earlier this month, gathering up enough apples to make pies and juice.
Mossey explained that the apples were growing well this year. Apples that normally have a diameter of 2-1/2 inches are now growing to 3 inches, she said.
Other area apple farmers, such as Lavoie's Farm in Hollis, Brookdale Fruit Farm in Hollis, and Currier Orchards in Merrimack, have noticed a similar trend. They say the apples grew large because of warm weather in May and lots of rain this summer.
As they picked Macintosh, Gala and Cortlands, the girls explained they select red apples with no bruises – and no holes.
The girls, all fifth-graders, said it's important to twist the apple stem before pulling it down off the tree.
"You don't want to hurt the poor tree because it's a living thing," Abby Fitzgerald explained. She ought to know. Her troop has been apple-picking for the past four years, practically half their lives.
Another apple expert, Rick Hardy, of Brookdale Fruit Farm in Hollis, confirmed Fitzgerald's assessment. If people just pull down hard on the stem they could damage the tree's "spur" – the part of the branch on which the apple grows. No spur, no apple, he said.
Hardy has plenty of other tidbits about apples, as well. Apples aren't native to America, Hardy explained. Rather they come from Kazakhstan, which is in central Asia, south of Russia.
A love of apples is something Americans share with the Russians, said Sasha Frasca, of Nashua, as she admired the view of the orchards and pumpkin patches at Lavoie's Farm.
Frasca, who is Russian, said apples are her native country's most popular fruit. She came to the farm to relax with four other Russian moms and their small children.
"We come here every year, it's just so nice and peaceful," Frasca said.
Although the farmers, and the pickers, seem happy with the 2008 crop, it wasn't a perfect year.
There were about 10 hailstorms in Hillsborough County this summer, which damaged the crop at some of the orchards, said George Hamilton of the University of New Hampshire Cooperative Extension.
Adrien Lavoie, the owner of Lavoie's Farm, said many apples harvested in the early part of the season – such as Paula Reds – were lost in two hailstorms this summer. The apples available for picking now, such as Macintosh, were not harmed. A fraction of the damaged apples were turned into cider, said Lavoie.
Mossey said the storms just missed McLeod Brothers Orchard.
This time, mother nature helped
If you have noticed that New Hampshire's apples are extra large, extra colorful and extra numerous this year, you can thank Mother Nature – because the weather has been terrific for the fruit.
On the other hand, if you have noticed that New Hampshire's apples are extra beat-up looking this year, you can blame Mother Nature – because the weather had also been terrific for the sworn enemy of picture-perfect fruit, hail.
"I know of 11 hailstorms that hit this county. We had two hailstorms in one day," said George Hamilton, educator with Hillsborough County Extension. "I've never seen that before."
This hail wasn't enough to destroy crops but has left many apples with small blotches.
"It isn't picture perfect, but if you ignore the 'ding' it's fine," said Hamilton.
That's unfortunate because everything else has been wonderful.
"We had rains throughout the whole growing season, never had a prolonged dry spell, so there's a lot of flesh to the fruit. Since September we've had cool nights which enhance the nice red coloring," said Hamilton.
Good news for growers, if not consumers, is that prices are high because of weather problems in Washington state, which produces about half of the American crop.
"There's a smaller crop nationally . . . even if a bigger crop locally," said Hamilton.