It's a cold day in Hell, Mich., too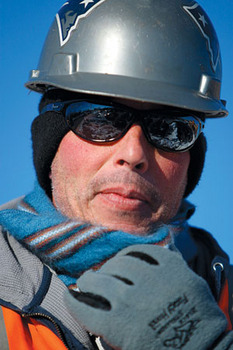 If you think it's cold here, it's only three degrees in Hell.
That's right: Hell, Mich., is lumbering through the same arctic-air front as New Hampshire.
The 75 residents of the unincorporated Michigan community have heard just about every joke about the other Hell. Summer does indeed bring warm weather, and the inevitable quips.
But on Wednesday, Hell was "totally frozen," said Beth Jarzabek, owner of Hell Country and Spirits.
"Right now, we're just hunkered down," she said. "It's three degrees. It is so cold."
There aren't many businesses in Hell: the country store, an ice cream parlor and a bar. But residents make the most – conversationally and entrepreneurially – of the town name they've had since 1841, Jarzabek said.
There's nothing residents can do about the chilly temperature, though, than dress warmly and think of hot places, she said.
Hell wasn't the only town unable to ward off cold weather with its name.
Hot Coffee, Miss., will see a high of only 40 degrees today. And the temperature in Hot Spring, Ark., will reach 32 degrees today.
At least Frostproof, Fla., lives up to its moniker.
It was 60 degrees in the central Florida town on Wednesday. And that is considered a bit of a cold streak: Tuesday had delivered a high of 74 degrees.
"Your blood is thick. You can handle this," said James Biel, the director of operations, sales and development for Lily Lake Golf Resort, said of New Englanders. "Our blood is thin. We can handle 100 degrees."
The only solution Biel could offer to New Englanders shivering in this cold stretch was to visit Frostproof, where they might occasionally "shiver" but they "don't shovel."