Is collaboration key to survival of arts groups?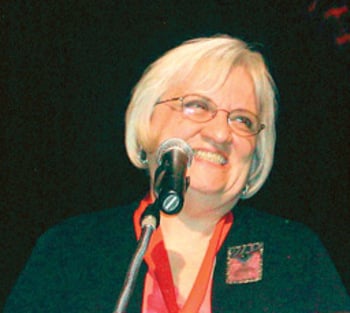 Through 34 years and more than 9,000 productions, the Prescott Park Arts Festival in Portsmouth has survived and thrived as a local summer institution, drawing audiences totaling more than 3 million on a donations-only basis. 
But like many arts and nonprofit organizations across the state, the recession has shaken it to its core as it struggles to remain financially viable.
Yet the festival's executive director, Ben Anderson, acknowledged those economic challenges may end up to be a blessing in disguise. 
"The biggest thing we've done, and I've kind of used the recession as a tool to do it, is to create more collaborations with other organizations," said Anderson about the festival's summer season, which features more than 60 events through Labor Day. "Everybody is feeling the same pinch with reduced budgets. It's something that should be happening already but we have ramped up (the collaborations)." 
For Rebecca Lawrence, outgoing director of the New Hampshire Council of the Arts, what's happening with the Prescott Parks Arts Festival has become a common refrain for arts organizations across the state — a feat of turning "lemons into lemonade."
Lawrence and the council know exactly what other organizations are confronting. State budget cuts have left the agency with a staff of five (who are funded by a combination of state and federal funding) for 2010 and beyond – four fewer than 2009. Lawrence in effect laid herself off effective Sept. 30 in hopes of sparing the jobs of other staff members.
Staff positions that will not be fully funded in the next fiscal year include director, creative communities coordinator, arts research specialist and grants and contracts technician.
Lawrence said that partial funding for a director's position has been restored for 2011. Most of the $230,000 of federal stimulus funding designated for the council went to saving more than a dozen arts-related jobs across the state, she said.
Lawrence's major concern beyond the job losses and the wealth of expertise lost is the ability to keep the "institutional knowledge" necessary to do the job. The Council on the Arts was spared deeper cuts due to federal stimulus funding and the Legislature actually increased grant funding to about $1 million for the council to distribute to organizations around the state. 
"The thing with arts organizations is that they operate pretty closely to the bone to start with," said Lawrence, who has been with the council since 1987. "There's a lot of creativity and opportunities, such as collaboration between arts organizations and their non-art counterparts going on." 
Innovative financial thinking is needed because nonprofit arts organizations are reporting drops of from 20 percent to 60 percent in donations, sponsorships and advertising. Lawrence believes that, in the current economic climate, it's too easy to forget the importance of the arts — not only for the cultural soul of the state but also because of their often overlooked economic impact. 
Economically vulnerable
Anderson said it has been a challenge to maximize the Prescott Park festival's $400,000 budget, which matches that from the previous year.
The organization obtains funding through memberships, advertising, sponsorships, grants and audience donations.
In addition to Anderson, the festival has one full-time employee, 12 seasonal employees and more than 100 volunteers. He said it was necessary to cut back on some positions — including a vital production manager job — but he said the rest of "our great crew" has stepped in to fill the void.
A Council on the Arts survey conducted earlier this year of more than 200 nonprofit cultural organizations found that many are feeling vulnerable and may not survive the recession.
Other survey results found that 67 percent of the organizations said contributions and grant sources had decreased, 38 percent were cutting programs and 10 percent were laying off staff.
Lawrence said that longtime cultural institutions, such as the Granite State Opera, have simply vanished, due to what she called the most difficult economic environment she has encountered.
"I've never ever seen anything like this. Organizations have high and lows and have been kept afloat by generous contributors, but this recession has hit every sector, from individual contributions to corporate sponsorships," Lawrence said. "The only thing that is left is government, and although it's not enough, at least a little bit of a safety net."
Lawrence said the Council will provide more unrestricted grants this year but added that it could be a very difficult next two years for many organizations.
"Definitely some will fall by the wayside, in part because there's not a strong enough community," she said. "Those that do survive will be able to innovate and take new approaches. I think it could be a Darwinian struggle, with the stronger ones surviving and becoming more community-based."
Anderson said the Prescott Park Arts Festival has tried to keep cuts to a minimum while expanding where it can.
"We were really trying to push up music concert offerings," he said. "We've really put a lot of attention and focus into this, and we expect to see more people coming."
For the festival, an expanded summer-long partnership with The Seacoast Repertory Theatre has resulted in one of four new events.
Other new events, all results of new collaborations, include the inaugural New Hampshire Fish and Lobster Festival on Sept. 19, which will celebrate with food and education exhibits more than 400 years of Seacoast fishing tradition and will have more than 12 organizations involved.
Also, the 20th Annual WHEB Chili Cook-Off and Fall Festival at Strawbery Banke will be the first large event partnership between the Prescott Park festival and Strawbery Banke.
"We are taking two festivals and making it into one big one," Anderson said. Both organizations will save money on site costs and marketing.
The festival's importance to the community is enhanced in this difficult economic climate, Anderson said, because of its high entertainment value and donation-only cost. He said he expects donations will remain constant, but attendance will rise past the 180,000 mark of 2008.
"It shows how important arts are to the community during these tough times," Anderson said. "Portsmouth is of decent size, but the sense of community is very big."