Iraq's archbishop tells dire tales of a wartorn nation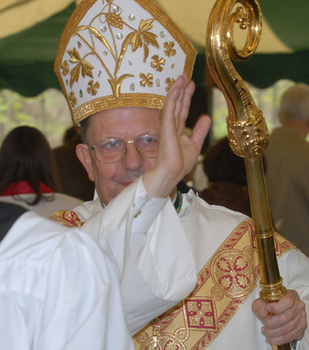 MERRIMACK – After saying Mass to a group of 100 at Thomas More College of Liberal Arts on Sunday, the Roman Catholic archbishop of Iraq spoke of the persecution of Christians in his country, including kidnappings, which he said go underreported and underinvestigated.
During the outdoor service, the Most Rev. Jean Benjamin Sleiman asked for special prayers for him and the other religious leaders of the church in Iraq.
"Without shepherds, the sheep become scattered," he said. "We have to take care of our people. We are weak. We have fear in difficult situations. We have to be able to deliver our flock from fear."
Sleiman, who was born in Lebanon and speaks Arabic as his first language, is in the U.S. for a week. After leaving New Hampshire, he plans to attend the National Catholic Prayer Breakfast in Washington on Friday and meet with the United States Conference of Catholic Bishops, members of the State Department and congressional leaders.
After the Mass, Baghdad's archbishop sat down with press and school officials to talk in depth about the particular challenges Catholics in Iraq are facing today.
He started by emphasizing that while he was in Iraq representing the Catholic Church, that it wasn't only Catholics suffering persecution.
"All Iraqis are suffering. It's a destabilized situation," he said. "We all appreciated the last month when violence decreased and there was some sense of peace. But the violence is back again and it's affecting everyone deeply, very deeply."
The archbishop said there are approximately a half million Catholics in Iraq, down from more than a million before the war. "Although this is just a guess," he said, because Catholics were not included in the national census.
Sleiman also said that since church bombings in 2004, many Catholics have been afraid to congregate in public.
He said many Catholics fled the country in fear of their safety. He said in some parts of the country – Dora (in Baghdad) and Mosul – "it's very clear. You are either Muslim or you leave."
He said persecution is also present in the form of kidnappings for ransom. "Even some priests have been kidnapped and returned after the church has paid ransom. But it's not something you hear about. It's not being reported" and he added no legal actions are taking place to stop the abductions.
Sleiman – who Thomas More College President Jeffrey O. Nelson called "a tireless defender of Holy Mother Church" in a hostel environment – said persecution of Christians also takes place in more subtle ways.
"You may not be hired for a job, so you can't take care of your family . . . the biggest problem in Iraq is a cultural problem," he said. "We are now living in deep confusion."
The archbishop wasn't comfortable talking about whether America should pull troops out of Iraq. Instead, he said that he thinks the best way America can help Catholics and all the citizens of Iraq is to provide "humanitarian, social and cultural" help to the country.
"Iraqis admire Americans, and this, I believe, is the best way they can help through humanitarian organizations and exchanges with cultural institutions like schools," he said. "I think this is the best way to help build peace and bring progress to Iraq . . . Violence is a political language."
Ren Whitter, 20, a philosophy major at Thomas More, said she was moved by the archbishop's presence at the school.
"I think we can forget Catholicism is so universal," Whitter said. "As a church, we're spread throughout the world. This was a way for us to connect with Catholics in a country that we sometimes only see as a country of enemies and terrorism.
"This was a reminder that there are things that transcend the political realm."