Initiative would link jobs, telehealth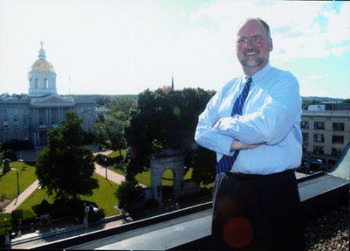 A newly planned initiative seeks to retrain information technology workers to teach elderly patients to use new telehealth technologies.Telehealth systems link patients to their health-care providers through the Internet using devices capable of transmitting data digitally. Patients can also access their medical record providing greater participation in their own health care.The Health and Wealth Care Initiative for Vermont and New Hampshire is asking for a $1.75 million grant, with a $750,000 match, from broadband-directed stimulus funds in the American Recovery and Reinvestment Act that would retrain IT workers more familiar with older computer systems in using Internet-based, or "cloud," systems that can be used with telehealth systems.These IT workers can then act as "mentors," teaching the elderly the use of such systems with devices like the Apple iPad, initiative proponents said.The initiative is a collaboration of the Dartmouth-Hitchcock Health System, New Hampshire Technical Institute and Arnett Development Group LLC, led by Stuart Arnett, former state economic development director.The initiative is expected to create more than 50 jobs, while bringing more awareness to the need of telehealth applications for the elderly and patients living in rural areas.Tom Foulkes, vice president for Adult Learning at NHTI, called the initiative "a great match-up." It would give IT workers access to NHTI's certificate and degree curricula "and will provide elderly patients, nursing homes and other health-care facilities a source of tech mentors, who will go on-site and ensure that barriers to telehealth use are overcome."
'Second bite of apple'Arnett said a similar proposal was submitted earlier and rejected for being too broad in scope because it also included plans for building broadband infrastructure and subsidizing connectivity costs for low-income patients.He said this "second bite of the apple" is a bit more scaled down, but has the potential to benefit many more people – initially some 5,000 patients from Dartmouth's 20 facilities in New Hampshire and Vermont who may already have high-speed Internet.Arnett said it's hoped that other proposals for ARRA broadband grants in New Hampshire and Vermont will increase broadband infrastructure in the state, if granted, and will consequently allow even more patients to access telehealth.Arnett said NHTI, along with economic development groups in Vermont and New Hampshire, will help identify potential employers and mentors to go through the telehealth systems training. Upon completion of training, these mentors will go to patients' bedside or home and instruct them in the use of the system.Arnett said studies have shown that patients are more honest and more thorough when making health assessments about themselves through the computer as compared to answering questions face-to-face with a physician.The more honest the feedback, "the better the patient outcomes," said Arnett.The collaborators said devices like the new Apple iPad are low-cost, easy to use and can eliminate barriers for certain patients, such as those who can't type at a keyboard because of arthritis or those who are visually impaired, since text on pad and tablet computers can be enlarged."We see greater patient involvement using broadband-based tools as an important part of that strategy," said Richard Hoffman, director of Internet strategy and Web operations at DHMC.The proposal was submitted March 15, and awards will be made by Sept. 30.
Cindy Kibbe can be reached at ckibbe@nhbr.com.