In tough times, many turn to teaching – and find a lot of people have same idea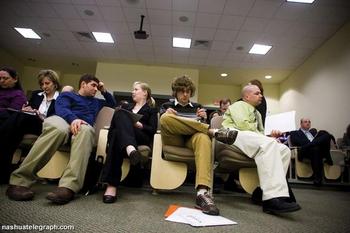 NASHUA – William Reed always wanted to get back into teaching.
He just didn't think it would happen like this.
After 12 years of working at Fidelity Investments, Reed was laid off in June, unwittingly joining that growing group of Americans: the unemployed.
In February, the nationwide unemployment rate grew to 8.1 percent, the highest it has been in 25 years.
Reed, 51, had worked as a math teacher at Bishop Guertin High School before he decided to enter the high-tech field in the early 1980s.
He has always thought about returning to teaching and recently started taking courses at Rivier College to earn his master's degree in secondary education. When he was laid off, Reed said he got his resume together and hit the job market. As he soon found out, it was pretty thin.
"It's really been tough," he said. "There are so many people out there doing the same thing."
Hard Times: Reasons & remedies
Reed received a severance package from Fidelity, but he said has been working as a substitute teacher in Nashua and other school districts. His goal is to land a job as a full-time teacher next year.
On Tuesday, Reed was waiting in a packed meeting room at Nashua High School North for his name to be called out. He was attending the school district's annual job fair.
"This is my first job fair," he said. "I wanted to see what the market was like. Feel it out and see what's out there."
Dana O'Gara, the district's human-resources director, had anticipated a higher turnout than usual because of the struggling economy.
The district ended up conducting 508 interviews Tuesday, which is more than double last year. O'Gara said the dispute over the teachers contract was one of the reasons for the low turnout last year.
In the district's proposed budget for next year, eight teacher positions would be eliminated. However, more will have to be eliminated if the Board of Aldermen makes further cuts to next year's budget.
O'Gara said the district typically sees a turnover of about 100 teacher positions each year, about 10 percent of the entire work force. It's unknown whether there might be fewer vacancies this year because of the economy.
Potential teachers filled out their applications and waited in the cafeteria and school board meeting room for their names to be called out.
As part of the application process, people were asked to answer three questions in essay form:
What kind of students do you find the most rewarding and the most challenging?
Describe a teacher who influenced your life and tell why you selected that teacher.
What do you think are critical skills for the 21st-century learner?
Robin VanAmburg, 53, was a stay-at-home mother, raising and home schooling her three children. But she decided to go back to school and get her teaching degree.
Last year, she was able to land a job as a special education teacher at Florence Rideout Elementary School in Wilton. But before her first year could finish, she was told she was being "riffed," meaning that her position was being cut through reduction in force.
She was waiting in the cafeteria for her name to be called. She said if she weren't able to land another job before next year, her family would be able to get by.
"But on the other hand, I didn't go back to school for nothing," she said.
Some of those waiting had temporary or part-time positions in other school districts and were looking for something permanent.
Melanie Cooper, 25, has been working as a building substitute in the Burlington, Mass., school district since January. In that role, Cooper said she fills in various positions when teachers are absent.
The position is only temporary, terminating in June, which means there is no guarantee she would be brought back next year. She said she hopes to land a full-time teaching position for next year.
"I thought this might be a good way to get my foot in the door," she said.
Cooper said she has an infant daughter and is concerned that with the state of the economy, finding a job will be more difficult this year.
Jen Ilchuk, 31, is a teaching assistant in Bedford, Mass. She recently became certified as a teacher and will be completing her master's degree program in May. She is also recently married.
"It's a hard time to find a teaching job," she said. "The economy is really bad. Teachers that would normally be retiring aren't retiring."
Some of the applicants were teachers in other school districts who have already been told their positions are being eliminated.
Laura Lewis, 31, is in her second year as a teacher in Salem. She has been told her position is being eliminated and she is now hitting teacher job fairs in the area looking for a job for next year.
"Obviously, it is concerning," she said.
Lewis said she has certification in kindergarten through eighth grade and is "Highly Qualified" in middle school math, language arts and social studies.
"I'm looking at myself as very marketable," Lewis said, adding that she's also looking around the state and is willing to move wherever she's able to find a job.
A table was set up at which state Department of Education officials could talk to applicants about how they could attain teacher certification after changing careers.
Diane Vienneau, a peer coach for the school district, said she has been talking with many of the applicants before they got called in to their interviews.
"People are scared about the economy," she said. "There are a lot of career changers."
Vienneau said she spoke with a teacher who had retired last year and was applying for a job because of concern about the state of the economy.
Christopher Gosselin, principal at Main Dunstable Elementary School, said two of the candidates he interviewed were parents from the school neighborhood looking to pursue an alternative career.
Gosselin said he also saw many student teachers who were looking for employment.
"They were all very talented candidates," he said.
After his interview was finished, Reed was optimistic.
"It went well," he said. "It was different being on the other side of the table looking for a full-time job."