In one Nashua neighborhood, booing defines good cheer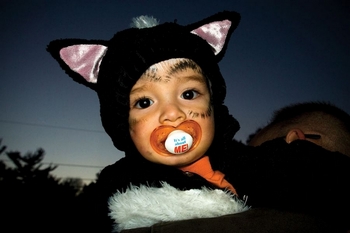 NASHUA – Between the impromptu barbecues, neighborhood-wide Easter egg hunts and general neighborliness, the Hyacinth Drive area is reminiscent of something out of "The Andy Griffith Show" or maybe a PG-rated Wisteria Lane.
Halloween is no different. The booing started about three weeks ago.
To boo a neighbor, one clandestinely leaves a treat-laden package on the front steps with a paper ghost that the booed party then posts in a window. The boo-ee then passes on the care package to someone else in the neighborhood.
All the booing culminated Friday night in front of Patrick and Tracy Devine's Donald Way home where five families from the neighborhood gathered for a Halloween party.
A small fire glowed next to a table filled with candy, cupcakes and punch for the trick-or-treaters who came by, but there were also crockpots with chili, meatballs, American chop suey and cider for the adults.
Around it all ran kids from the five families dressed as butterflies, lions and witches. It was a staging area where the kids got amped up for trick-or-treating, and their parents talked and enjoyed a beer and a Jell-O shot or two.
Around 6 p.m., the kids took off with dads in tow while the moms stayed put and handed out candy to trick-or-treaters and food to their adult chaperones.
The booing has been going on for several years – no one seemed to know exactly who started it.
"The kids love it," Tracy Devine said. "They love getting the basket, and they also love sneaking around and putting it on someone else's porch."
The outdoor party to cap off the Halloween season only started last year but promises to continue for a long time.
"It was a lot of fun. People really enjoyed it," said Hyacinth Drive resident Kathie Gates. Parents escorting their kids to the neighborhood are usually surprised to find treats waiting for them too, she said. "It's nice to do something for the community, especially when they don't expect it."
The Halloween festivities are just one of the perks to living in the neighborhood off Conant Road. Most of the couples are about the same age, as are many of the kids. In addition to holiday parties, several of the families gather spontaneously, especially during the summer, for barbecues and fish fries.
Julie Hullinger moved to Hyacinth Drive from Utah two years ago.
"It felt like we hit the lottery," she said. "For me, it's a lot less lonely because I don't have family here. There's a camaraderie among the mothers. It's like having a safety net around you all the time, and that's a gift. It's like a family."
Bob Gates, Kathie's husband, agreed that it's a relief to be able to depend on his neighbors for help sometimes.
"It's a very close neighborhood," he said. "It's a community thing. Everybody just clicked. It's a good situation. I couldn't have picked a better spot."
Good friends and good fun is nice, Tracy Devine said, especially with the stress most people face on a daily basis.
"It's a chance to spend time together. I think it's a great release," she said. "I just like to share the holiday with other people, with the way things are in the world right now."
Kathie Gates agreed.
"With the economy the way it is and the stress everyone has, it was great that people put their neighbors ahead of that," she said.