In November, N.H. exports surged to an all-time high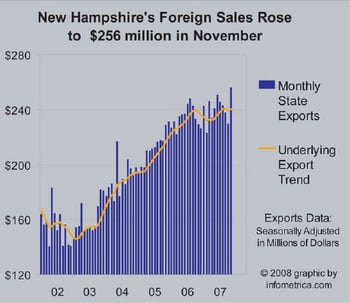 Following a decrease of 3.5 percent in October, foreign sales from New Hampshire's companies surged 11.4 percent in November 2007.
The $26.1 million monthly surge in foreign shipments from the previous month brought exports to an all-time high of $255.6 million in November, adjusted for seasonal variation.
On an annual basis, the latest snapshot in trade numbers shows that exporting companies posted gains in foreign demand for goods made in the Granite State. In November 2007, consumers and businesses from abroad bought $26.5 million, or 11.5 percent, more goods made in New Hampshire than in November 2006.
Shipments abroad from state manufacturing plants increased 16.6 percent from the previous month to $223.9 million, adjusted for seasonal variation — the highest level on record.
Manufactured goods accounted for 88 percent of all state exports in November. Compared with 12 months ago, November's exports from state factories were $23.2 million higher.
Exports of non-manufactured goods totaled $31.7 million in November, a 15.3 percent decrease from October. This group of shipments abroad consists of agricultural goods, mining products and re-exports.
At the national level, exports of goods, adjusted for seasonal variation, rose 0.1 percent in November to $101 billion, mainly reflecting strong sales to Canada, China and Germany. Compared to November 2006, exports of goods to Canada climbed 16 percent, and overseas shipments to China and Germany jumped 20 percent.
Buyers from five countries were responsible for half of the overall demand for goods made in New Hampshire through November 2007. Consumers and businesses north of the border bought $558 million, or 21 percent, of all state exports in the first 11 months of 2007, making Canada the largest export partner of New Hampshire's companies.
A few years ago, China was an unimportant export market for New Hampshire's companies. In the first 11 months of 2007, Chinese companies bought $240 million in goods made in the state, an astonishing 41 percent increase from the same period of 2006. As a result, China ranks as the second biggest trading partner of New Hampshire's companies so far in 2007.
Germany was the third largest buyer of state exports in 2007, accounting for 8 percent of all foreign sales.
Looking at export growth, New Hampshire ranked 43rd among the 50 states in the first 11 months of 2007. Through the period, New Hampshire's exports of goods increased 2.5 percent, compared to the same period in 2006, adjusted for seasonal variation. For the nation as a whole, exports increased 12.4 percent during the same period.
According to the latest business survey conducted by the Institute of Supply Management, the nation's supply executives remained optimistic about the prospects of growing export markets. The Tempe, Ariz.-based research institute reported that its export orders index continued to show growth in new export orders in December for the 70th consecutive month.
From the pool of respondents of the largest U.S. corporations that sell their products abroad, 17 percent reported greater export orders, 71 percent reported no change in export orders from November's levels and 12 percent reported smaller export orders. nhbr
Evangelos Simos, chief economist of the consulting and research firm Infometrica Inc., is international affairs editor of the Journal of Business Forecasting and professor/department chair at the Whittemore School of Business & Economics at the University of New Hampshire. Distributed by Infometrica Inc. He may be reached at eosimos@infometrica.com.