In Merrimack, tossing trash could cost cash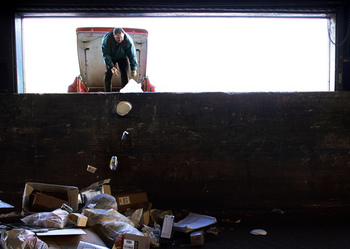 Jamie Provencher stood on the bed of his Chevy, swinging trash bags over a wall and into a pit. Such a trip to the town's transfer station is a weekly ritual for Provencher, who on Thursday stopped by with a truckload of garbage – a typical, eight- to 10-bag load for his family of four.
During his visit, Provencher was unhappy to learn about the town's proposal to institute a "pay-as you-throw" program, which would require transfer station users to buy special bags for trash.
Under the proposal, residents would purchase 15-20 gallon bags for $1, or 30-gallon bags for $1.50. For Provencher, that could add up to about $500 a year.
"It'd be costly to the citizen," Provencher said. "Just another monthly bill . . . we'd have to set that money aside."
The pay-as-you-throw program was introduced to the town council in December as part of Town Manager Keith Hickey's budget.
Residents will have a chance to sound off on the proposal Monday night at a public hearing. It will be an important evening because the council is considering the pay-as-you-throw program as a major part of this year's budget.
If the program is eventually approved, the council's request for a zero increase in spending remains intact. If the program is dismissed, councilors will have to cut $800,000 or raise taxes by that amount.
The whole idea of pay-as-you-throw, town officials say, is to encourage users to separate recyclables from their regular trash. They say this would do two things: cut down on hauling costs and tipping fees, and on the recycling end, generate more revenue for the town to help offset operating costs.
Merrimack transfer station users generate 10,000 tons of trash per year, which gets hauled by town trucks to a landfill in Rochester or an incinerator in Penacook. It costs $60 a ton to dump the trash, which means Merrimack taxpayers will pay about $600,000 this year for trash disposal – not including the trucking costs.
Because the program requires people to buy bags for their trash, officials are counting on them to recycle more, which wouldn't cost any additional money and would be made easier.
Officials estimate the regular trash stream would shrink to about 4,000 tons a year, lowering tipping fees to about $361,000. They estimate an additional $18,500 savings in bale wire and fuel.
Combined with the projected income from bag sales, town officials estimate the pay-as-you-throw program would save Merrimack nearly $800,000.
"I've talked to a lot of towns and cities in New Hampshire, and they're all embracing it," said Rick Seymour, public works director. "They all realize it's a win-win."
But not everyone thinks so.
David Ortiz, a Merrimack resident of 18 years, said he's been recycling for as long as he's lived in town. He supports the increased recycling initiative.
But paying for trash?
"That, I'm not too happy about," he said. "It would be better to educate people more about recycling, as opposed to this."
Others viewed the program as double-dipping, since taxpayers already fund the transfer station.
"It's another tax," said Kathy Stroud, who was visiting the station Thursday. "Why should I pay for something I'm already taxed for?"
Seymour looks at it differently, sort of like a utility: those who throw more trash pay more for it. Those who recycle pay less.
The station collects an estimated 1,700 to 1,800 tons of recycling materials each year, said Steve Doumas, transfer station foreman. It all gets picked up and marketed by the New England Resource Recovery Association, which negotiates prices for several municipalities in the state.
Merrimack, which already has a recycling rate of about 23 percent, brings in an average of $100,000 a year in recycling revenue, Doumas said. Under the program, that number is expected to increase by $20,000.
In addition, officials want to make recycling easier for people by starting a "single-stream" recycling program, which eliminates the chore of separating materials at the facility.
All recyclables would be dumped into one area, and the facility would accept more materials than it does now, including junk mail, all plastics and Styrofoam, among other materials.
"I think what we want to do is be more user-friendly, increase the recyclable materials that we can take and make it easier for those people who already recycle," Seymour said.
Towns and Recycling
Don Maurer of the state Department of Environmental Services says comparing recycling rates among communities is harder than it seems, for several reasons, including the fact that commercial waste is often handled privately and may or may not be included in data, and it's not always clear how to categorize some categories of trash, such as demolition debris. These are Maurer's estimates for municipal recycling rates in 2007:
*Does not include commercial waste, as far as can be determined.
Source: State Department of Environmental Services