In inaugural, Lynch warns of lean times ahead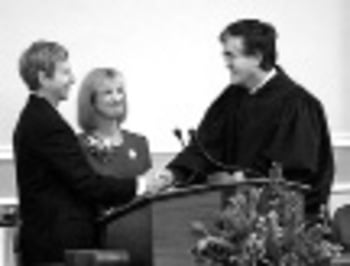 Gov. John Lynch offered an austere financial message while remaining upbeat about the state's future after taking the oath of office for a third term on Jan. 8.
Lynch, 56, said he's committed to resolving a looming $95 million budget deficit this year and a much bigger one in the next two-year state budget without a state sales or income tax.
But that's the only revenue option Lynch chose to specifically rule out.
"This next budget cannot be balanced by tweaks and minor adjustments," Lynch said during the 25-minute address delivered to the New Hampshire Legislature.
"This problem will not be solved by closing our eyes with the hopes it will go away. And there is no magical pot of gold at the end of a mythical rainbow."
Legislators, the majority of whom are Democrats, warmly received Lynch during the speech.
The governor urged the Democratic Congress and President-elect Barack Obama to quickly pass a federal stimulus bill that could deliver as much as $75 million in welcome relief for state coffers.
Republican State Chairman-to-be John E. Sununu, said he had hoped Lynch would offer more specifics on where he'd cut state spending.
"I am surprised and somewhat disappointed that the approach to dealing with the budget does seem to be waiting for a federal bailout," Sununu said.
Senate Minority Leader Peter Bragdon, R-Milford, said he hoped that Lynch would not tap the $89 million Rainy Day Fund this year. "If it's raining, this is a drizzle compared to the next two years, when it will be a downpour," Bragdon said.
Lynch said lawmakers must understand that the state can't afford some worthwhile spending programs during these tough economic times.
"As we develop the next budget, we will have to examine every area of spending, look at every program and say 'no' more often than we would like," he said.
"There are some initiatives and programs – no matter how worthy we feel they may be – that will have to be deferred until better times. We will not be able to do everything we want to, or even everything we should do as a state."
Senate President Sylvia Larsen, D-Concord, said that all nonessential spending could be on the chopping block.
"I think we need to get the public ready to understand how big the cuts will be," Larsen said.
House Speaker Terie Norelli, D-Portsmouth, said legislative budget writers would
have to be tough judges of spending initiatives in "an entirely new light."
Lynch did offer one new program – a green jobs initiative paid for from a pool of money the state gets from utilities that purchase credits to meet targets for clean air.
At Lynch's urging, lawmakers last spring made New Hampshire the 10th and final state to join this Regional Greenhouse Gas Initiative. "This Green Jobs Initiative will help create jobs for our people now, and make New Hampshire's economy stronger for the future,'' Lynch said.
Lynch also called for expanding the Job Training Fund he reinstituted for existing businesses to offer help to unemployed workers.
Lynch likened this budget crisis to the tireless effort that workers for private utilities and public safety departments along with countless volunteers logged in dealing with December's ice storm.
"This recent natural disaster has reminded us of the strength of the people of New Hampshire, that strength will be called upon again as we weather the current economic storm,'' Lynch said.
– KEVIN LANDRIGAN
THE TELEGRAPH