Immaculate revival Nashua church's parish building undergoing renovation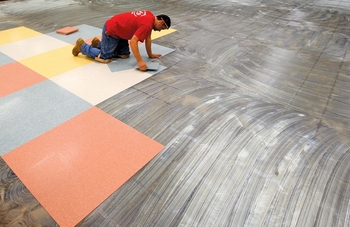 NASHUA – Immaculate Conception's parish building is getting a much-needed facelift, according to the Rev. Bob Guillemette.
"The building hasn't been touched in 20 years," said Guillemette, the church's pastor, detailing two decades of tile tearing, wall scuffing and water damage the parish building has suffered.
Over three weeks, Sullivan Construction has been repainting, retiling, recarpeting and refurbishing the building.
One of the goals, Guillemette said, is to move the Immaculate Conception pastoral staff to the parish building, to create a "one-stop shopping" for all who use the office.
"Before, I used to go the religious offices to the church to the pastoral office, and I'd leave stuff over there," Guillemette said. "I noticed I had three very important people in the ministry and that I was away from them."
Thanks to an anonymous capital donation, designated specially for the parish building, things just got a lot easier for the Immaculate Conception staff.
The floors have been ripped up, the walls painted over and new carpets cover every floor.
"I'm very pleased with how it looks," Guillemette said. "The colors are brightening up the place."
For three weeks, the organizations that meet regularly at the parish building were relocated for the project. Fortunately for religious education students, the construction took place during a break in the schedule so they did not miss out on instruction.
Guillemette explained each and every construction project depends on the parish's ability to raise money. At times, the parish even resorts to thermometer artwork taped up at the front of the church to remind donators that help is needed.
"We were blessed with a person who wanted specific needs met," Guillemette said of the anonymous donation.
Immaculate Conception went forth with plans for the parish building six years after their new church was built. The cost of the parish building project was also left anonymous.
Now, the Catholic parish, one of the largest in New Hampshire, can enjoy fresh offices, clean religious education classrooms and a vibrant spiritual center – perfect timing for its increasing number of attendees at Mass.
In light of the economy, Guillemette said he finds more people in the pews on Sundays.
"When times are hard, people come back to the church," Guillemette said. "We aren't recession-proof, but I feel it's a time for people to recreate themselves and readjust their life compass if they've lost their position and need to get spiritually active."
For those local residents that can't afford to get away this summer, the church is another way to spend an hour, "feed the soul," and cool off in air conditioning, with the family.
"During a recession, the church is a wonderful safety net for people," Guillemette said.
The Diocese of Manchester selected Sullivan's bid for the renovation. Officials at the Diocese did not return phone calls inquiring about parish renovations.