Ice storm saps maple producers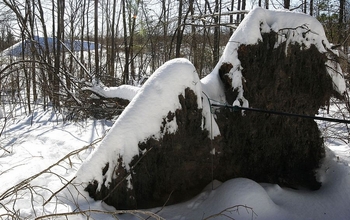 At 3 a.m. on the morning of Dec. 12, Ben Fisk was doing what a lot of New Hampshire residents were doing: setting up a generator to power his house.
But while the ice storm robbed homes of power, Fisk was worrying about what it was doing to the trees. Fisk, a maple syrup producer and owner of Ben's Sugar Shack in Temple, walked outside that night and saw four or five trees already down in the dark road.
More trees kept falling all morning.
The next day Fisk went out to the forests where he makes his living tapping maple trees and saw that he'd lost more than a few days of electric power.
"It was pretty bad. The ice storm broke a lot of tops of the trees off," Fisk said. "We lost a lot of trees. One orchard had 700 taps, and we won't be able to use it at all."
In Lyndeborough, the Maple Guys – neighbors Chris Pheil and Chris Schoen – said the same thing.
"Broken branches, tree tops and all the tubing's down," said Pheil last week. We actually lost one sugar orchard. It's just too damaged to tap this year, for sure."
The damage reminded some of the 1998 ice storm, which hit northern New Hampshire. That storm was much larger, said Kyle Lombard, forest entomologist with the state Division of Forestry.
"In 1998 we mapped over 200,000 acres of serious damage. This time it was about 500 acres," said Lombard.
Of course, the December storm "whacked southern New Hampshire, where all the people live," said Lombard.
With most maple syrup producers located farther north, the 1998 storm had a bigger overall impact on the industry. "There were dozens of producers that couldn't even tap that year. A lot of them went out of business. It was devastating to the industry. This time it's not even a blip," said Lombard.
But while it may not compare to the 1998 storm from a statewide perspective, the 2008 storm cost local maple producers dearly.
Out of the 4,500 taps that Fisk had set up, he estimated he'd be able to use just 1,500 of them this season. He'll also rent an orchard in Sunapee to help make up the loss. (Locally, he taps maples on different properties, with landowner permission.)
"The worst-hit producer I talked to was Ben Fisk," said Barbara Lassonde, publicity director for the New Hampshire Maple Producers Association. Lassonde, in Warner, said she called around to see how the association's southern-tier members had fared after the storm.
Lost tubing
The only way Fisk will be able to use even the healthy trees is by hiring extra help. There's just not enough time before the tapping season begins in mid-February for one person to dig out the tubing stretched across acres of forest and connect it to the taps.
Rather than hang a bucket at each tree to collect the sap, most syrup producers attach sap lines, or tubes, from tree to tree. The December ice storm knocked a lot of those lines down.
Then, making things worse, a snowstorm hit the region a few days afterward, burying the lines.
"So you can't just walk around and pick them up; they're under snow now," said John Nute, a UNH Cooperative Extension educator for Hillsborough County.
"A lot of people might just put up new lines. So they've got the labor and the cost of putting up new lines. Usually these lines last about 10 years. So they've lost that investment," said Nute. By that calculation, the Maple Guys lost five years' performance from tubing they're replacing this year.
Pheil estimates the storm will cost them $5,000 in new tubing, at least 300 taps on damaged trees, and over a week's work to put up the new lines and clear debris.
Damaged trees
It takes a lot of damage to ruin a good syrup tree, according to experts like Nute. Just how much was discovered in 1998.
"Foresters did a lot of research on how much damage the trees could take, and fortunately most of the sugar bushes came through OK," said Nute.
"These trees can withstand up to 30 percent loss of their crown and still recover. It's amazing, we never thought that could happen until they did that research on the 1998 storm."
Fisk has seen that recovery for himself in the Sunapee orchard. "The place I rented in Sunapee, they got hit real bad in 1998 with the ice storm, and you can see where the trees got hit, but it's growing back out," said Fisk.
The problem for Pheil and Fisk is that many trees have lost much more than that.
"I'm seeing a lot of trees that are snapped right in half," said Fisk.
Across southern New Hampshire, producers told Lassonde that trees at higher elevations were more damaged, she said.
Many of the trees Fisk taps are on Temple Mountain.
"You can see the difference going up the hill," said Fisk. "There's a lot of trees we'll never be able to tap again."
The Maple Guys' heavily damaged orchard is also located at higher elevation, said Pheil, while another one at a lower elevation is fine.
Not giving up
The loss of tubing, extra work and damage to their trees was enough to make the Maple Guys and Fisk think about quitting.
"It really was. We thought about going out of business, and I didn't want to give up that business," said Fisk.
Pheil said the thought crossed his mind, too.
"It did when it (the storm) was going on. But I definitely thought we'd be boiling something, whether it was to that magnitude or not," said Pheil.
Pheil and Schoen had planned to expand their production this year by about 500 taps, but they had to adjust their expectations after the storm.
When it was over, Pheil took his chainsaw and went out to one of the orchards, which they tap with permission from other landowners, to clear away debris. He didn't get very far.
"There was too much damage. I just turned around and walked out. There's not much we can do this year (with that orchard)," said Pheil. "It was terrible."
Whether they'll turn a profit this year remains to be seen, said Pheil.
"It's really discouraging. We have all that money tied up in tubing that's all destroyed. And we can't even tap it," Pheil said of their most damaged orchard.
But Pheil and Schoen, who have won awards for their maple syrup, aren't quitting.
Neither is Fisk, who's wanted to make syrup since a kindergarten field trip to a local producer – probably Parker's Maple Barn in Mason, though he can't remember.
Fisk runs a full-time business, selling maple products – like cotton candy at the Milford Pumpkin Festival – throughout the year.
The owners of the Sunapee orchard, Jeff and Peter Sweet, made it easier for Fisk to stick with it this year by renting to him for a low price, Fisk said.
If they hadn't, he would have tried to make the season work anyway before giving up and going back to building houses with his father.
If the taps run well this season, and next year's weather is good and cold, local producers may recover their losses.
Syrup producers need a long, cold winter followed by a warming period to get the most sap. The taps only stay open for six to eight weeks.
"Last year was the best year yet, like an old-fashioned winter," said Pheil. "The previous couple of winters were horrible, because it'd be 50 in January."
Now he's hoping for some more good sugaring winters: cold, with lots of snow.
But no ice storms.