Ice storm prompts school solutions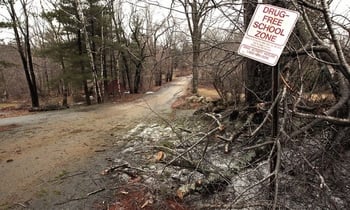 The lengthy school cancellations following the December ice storm have left some area districts looking for creative ways to make up for lost time.
Some locals districts missed so few days during the storm that they don't have to make special plans. Nashua and Hudson, for example, were closed two days and Litchfield was closed three. Most school districts plan for at least five snow days each academic year.
Yet in other places the ice storm caused more damage. Milford and Amherst lost seven days and Wilton and Lyndeborough lost nine. All of the districts have already had at least one other snow day this year, with two more months of winter ahead.
Not all plans have been formalized yet, but here is what local districts are expecting to do:
Amherst/Mont Vernon
When the SAU 39 School Board meets Thursday, Jan. 29, it is expected to approve a plan developed by Superintendent Mary Jennings that calls for the Amherst, Mont Vernon and Souhegan school districts to add 20 minutes to the end of each school day beginning Monday, Feb. 2.
By June 12, the addition could make up for five of the lost days, more or less, depending on how many additional snow days are need needed this winter.
In addition, Jennings' plans calls for the Mont Vernon and Amherst districts to reschedule a Feb. 16 teacher workshop until the end of the year.
Using that plan and taking into account the current snow days, the last day of school for Amherst/Mont Vernon students would be June 15; for Souhegan, the last day for students would be June 17. The 175th day for seniors would be June 10.
If additional snow days are needed, the district would apply for a waiver from the state Department of Education if it appears the mandatory 180-day school year would not be completed by June 26.
In terms of high school graduation, the Souhegan district will consider applying for a graduation waiver if the 175-day minimum attendance requirement for seniors cannot be met by the proposed June 12 graduation date.
Milford
The Milford school district is working on a plan to use longer school days and eliminate workshop days to make up for the time lost, although no details have been settled yet.
The last day of school in Milford will be sometime between June 15 and 29, although Superintendent Robert Suprenant called the June 29 date "a remote possibility."
Suprenant will make a recommendation to the school board Feb. 2. It will not include using either the February or April vacations for makeup days, he said.
A professional development day is scheduled for March 10 and delayed openings for teacher workshops are scheduled for Feb. 18 and April 1, "and I think we can pick up some time there," said the superintendent.
"I'm meeting with all the school constituent groups – teachers, administrators, paraprofessionals to – put together a recommendation to the board that works for everyone."
The district will not establish graduation day until April 1, as usual. For graduation seniors, Saturday classes are a possibility.
Whatever happens, the district is unlikely to ask for a waiver from the state requirement that students go to school for 180 days.
"I am not planning on recommending to the school board that we waive the missed days," Suprenant wrote in a Jan. 14 letter to parents.
Wilton/Lyndeborough
The plan is to extend the school day by 20 minutes beginning Feb. 2 and set June 19 as the last day of school. If the won't hit the 180-day mark by June 19, it would seek a waiver for any remaining days.
The towns have currently missed 10 days this winter and those will be made up under the plan.
"We really want good weather," Superintendent Leo Corriveau said, "but we expect a few more snow days."
The high school graduation date has not yet been set. "The boards want us to wait on that, but we can set the date soon, probably by March," Corriveau said.
Parents will be notified of the changes and they will appear on all of the schools' Web sites.
"All the districts are a little different," Corriveau said, "but basically they all agreed to the plan."
Merrimack
Schools in Merrimack were closed four days because of the ice storm, plus one additional day for a storm on Jan. 7.
Earlier this week, Superintendent Marge Chiafery presented the school board with a proposal to turn teacher workshop days Feb. 16 and March 26 into regular school days.
She also scheduled three makeup days at the end of June, setting June 19 – to be a half-day – to be the close of school. Of course, she said, that's a tentative date.
"I told (the) board I wanted to operate on a step-by-step approach," Chiafery said. "I didn't want to come out with a sweeping conclusion because the winter is young."
Letters about the calendar changes would be going out to parents next week and the information will be posted on the district Web site, Chiafery said. When the dates get closer, the district also plans to use the AlertNow messaging system to notify parents.
Chiafery said she also floated a couple of ideas to the board in the event that the district accumulates many more snow days this year.
She would prefer not to touch February or April breaks because of scheduled vacations for students and faculty, but suggested that adding 10-15 minutes to the end of school days could be a possibility to consider, if needed.