Huge colon raises cancer awareness, eyebrows at mall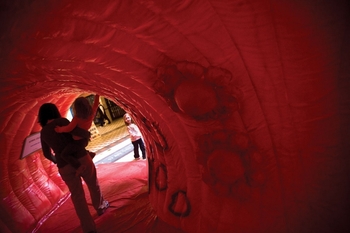 Shoppers at the Pheasant Lane Mall in Nashua got a nice view of a colon Saturday.
Lowell (Mass.) General Hospital had a super-size colon on display for people to walk through to witness the various stages of the organ, from healthy to a severe case of colorectal cancer.
"My mom is a survivor of it," said Roberta Carabba, who thought the display was an oversize, blown-up tomato from far away. "For 12 years, she has been disease-free."
Lowell General and its employees in the Cancer Center were raising awareness about colon cancer during Colorectal Cancer Awareness Month.
While surrounded by displays full of information about the colon, they handed out brochures, bracelets, temporary tattoos and magazines.
"It's been a very good response; we've heard quite a few stories," said Jan Conway, LPN, who has been at Lowell General for 31 years.
The super colon was from the Prevent Cancer Foundation, funded by Team Walk Cancer Care, and was a huge hit for young kids as they ran in circles in and out of the colon.
"A lot of them were walking out saying, 'That's gross,' " said Sandra Leigh, office manager of the Cancer Center.
By noon, Polyp Man, the mascot, had shown up to add a little humor, making a serious topic a little more comfortable to discuss. Polyps are growths resembling grapes that appear on the lining of the colon and rectum.
"There is no one that hasn't been touched by cancer," said Meg Lemire-Berthel, director of social work and community outreach."Through a loved one or a friend, it touches everyone," she said.
Lemire-Berthel, who has worked for Lowell General for 20 years, said the annual Team Walk the hospital sponsors is a huge success. All of the money raised stays local and goes to patient support services, cancer screenings for early detection and community education such as the super colon.
"A big part of cancer prevention is raising awareness," said Christine Scaplen, who is in public relations at Lowell General.
Lemire-Berthel and Scaplen said part of their job is coming up with innovative ways to raise awareness without slapping people in the face.
"The awareness is so if people have symptoms, they don't ignore them," Scaplen said.
People are encouraged to get a screening at age 50; however, if symptoms such as rectal bleeding, change in bowel habits, general stomach discomfort, diarrhea, constipation, weight loss for no apparent reason, constant fatigue or vomiting occur, then a doctor should be contacted immediately.
"No one wants to talk about poop," Scaplen said. "Twenty-four hours of prep for a colonoscopy is nothing compared to cancer."
Colorectal cancer is one of the easiest to detect and also one of the deadliest because people wait to get checked or don't get checked at all.
"People who are educated about the signs and symptoms, as well as ways to prevent cancer, can help lower their risk of developing the disease," Scaplen said.
Not all shoppers took a pamphlet, magazine or bracelet, but there were hundreds of people who took the one chance they'll most likely have to walk through a super-size colon.
"This is an event to really highlight this is Colon Cancer Awareness Month," Lemire-Berthel said. "There is really good traffic compared to some of the stuff we've done."
The Lowell General Hospital Team Walk for Cancer Care has raised more than $3 million over the last 10 years. This year, it will be held May 17.
For more information about cancer, visit www.cancer.org or www.preventcancer.org.