Hudson's new library taking shape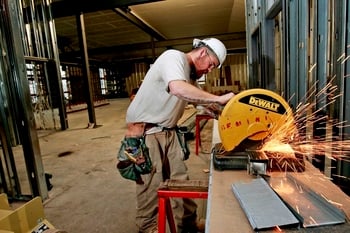 HUDSON – More than 30 years, a dozen referendum votes and countless discussions have come and gone since the first baby step was taken toward the pursuit of a new town library.
This past June, at long last, library advocates rounded the final curve on that seemingly never-ending path when they celebrated the official groundbreaking for a new library.
And now, there's undisputable physical evidence that it really is happening: The exterior walls that, come spring, will contain roughly 15,000 square feet of book stacks, meeting rooms and technology have risen on the three-acre lot that is the new home of the George H. and Lila M. Rodgers Memorial Library.
Project administrator Elaine Brody and clerk of the works Bernie Manor hardly noticed the steady wind-driven rain tapping at their hard hats one morning last week as they toured a visitor in and around the new building.
"We are so fortunate that Phil and Al came forward," Brody said, referring to native Hudson brothers G. Philip and Alvin H. Rodgers, co-founders of Rodgers Brothers Builders, who donated $4 million for the new library that would be named in honor of their late parents. "Otherwise, we'd be trying to repair those two trailers."
The "trailers," more kindly called "portables," or "pods," were set up behind the Hills Memorial Library several years ago to alleviate the space crunch that inevitably befell the cozy little building built a century ago by prominent town resident Dr. Alfred Hills in memory of his late wife, Ida Virginia.
At less than 3,000 square feet, the historic library comfortably served Hudson back when residents were measured in hundreds rather than thousands. Selectmen and other town boards held their meetings in the basement, which long ago was converted to a rather cramped children's room.
Although the very first library-related warrant article – a request for $3,500 for a feasibility study in 1977 – was approved by voters, the ensuing three-decade campaign to build a new library, or at least add on to Hills, generated a consistent, but for many very frustrating, timeline punctuated with no-vote after no-vote at Town Meeting after Town Meeting.
With all that now behind them, Brody and Manor were able to smile their way around the new library's unfinished interior, where crews worked on various projects, and where recently erected metal studs now define some of the rooms.
The main entrance is to the rear of the building as it's viewed from Derry Road. Some of the cement walkways have been poured, save for a rectangular-shaped spot in front of the doors.
"This is where the bricks from the buy-a-brick project will go," Brody said, referring to the ongoing campaign where residents can purchase a brick and have it engraved as they wish.
"It'll fit about 1,100 bricks – so we've got 900 left to sell," she said, throwing in a reminder that in this case, a commemorative brick (two lines cost $50 and three, $75) can make an ideal holiday gift.
For more information or to order a brick, visit www.rodgerslibrary.org and click on the link to the order form. The next installation will take place in the spring.
Once inside the main entrance, an all-purpose meeting or conference room is the first door that visitors will come to, with restrooms across the hall. "We designed it that way so when the library is closed, the public can still get to meetings or functions very easily," Manor said. A gate, similar to those in school corridors, will separate the main library in off-hours.
Everything is on one floor, with the basement designed for storage and the usual pipes, wires and other utility equipment. An interesting feature is a hot-water piping system that will run through parts of the upstairs floor, like in the children's area, to warm little fannies during story time.
Although the new library is several times larger than Hills, Brody said, the building committee nevertheless looked to the future in its planning process – there's room for a 10,000-square-foot addition off the building's northeast side.
"The ALA (American Library Association) recommends one square foot per capita (for town and city libraries)," Brody said. Predictions put Hudson's "buildout point" – the point where all buildable property is developed and occupied – at roughly 30,000, making a potential 25,000-square-foot library close to achieving that standard.
On the other side of the building, Brody said, a spring clean up and series of plantings will take place in the spring to spruce up the green space between the building and the road. A small courtyard with chairs and tables for patrons and staff is planned as well, she said.
Inside, the smaller nooks – the administrative and IT offices and a small pantry – give way to the building's center, a spacious, open-concept design where the usual shelves, bookcases, work stations and tables and chairs will be strategically placed to maximize comfort and practicality, Brody and Manor said.
The project, which Brody says is running ahead of schedule, calls for the contractor, Concord-based North Branch Construction, to turn the property over near the end of February. "Then we need to furnish it," she said.
Funding for furnishings will come in part from the sale of two town-owned homes next to Hills Library, as well as from various Friends of the Library fundraisers and donations, Brody said.
Several groups have already signed on as sponsors. The Hudson Community Club and Junior Women's Club are sponsoring one of the meeting rooms and naming it in honor of the late Ann Seabury, a longtime town official and strident library advocate.
Another meeting room has been adopted by the Friends of the Library, Brody said, while the Hudson/Litchfield Rotary Club will fund and erect a new flagpole.
"I'd certainly be happy to talk to anyone interested in other sponsorships," Brody said. "There are a number of naming opportunities still left."