Hudson voters nix plan to fund Kindergarten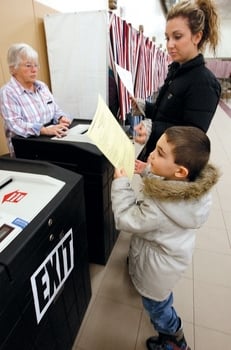 HUDSON – Voters left few survivors in their wake on Tuesday, but their most resounding "no" could have been the one that would have brought public kindergarten to town in the fall.
Article 9, originally drafted as a petition article by kindergarten advocate Donna Ohanian and put on the ballot with a school board amendment, was shot down by a 2-1 margin, 2,046 to 1,053, at the hands of economy-weary residents when the dust finally cleared around 9:30 p.m. at the community center.
The vote clears the way for the school board to move forward with its year-long lawsuit against the state Department of Education, which accuses the state of providing inadequate kindergarten funding and therefore putting an illegal "unfunded mandate" on the district.
Article 8, also drafted by Ohanian, called for the district to drop the lawsuit. Voters killed it by a similar margin, 2,032 to 1,018.In an interesting twist, voters swept longtime school board chairman Dave Alukonis out of office in favor of political newcomer Laura Bisson – a staunch kindergarten proponent who strongly opposes the board's lawsuit against the state.
"My work is cut out, that's for sure," Bisson said while accepting congratulations after the numbers were read. "I'll be talking with Randy (school superintendent Bell) tomorrow . . . we all need to put our heads together now and go from here.
"The taxpayers have definitely spoken," she added.
As amended by the School Board, Article 9 asked residents to spend $1.23 million in start-up and operating costs for a half-day kindergarten program. The figure is more than $400,000 higher than on Ohanian's original draft, which said the program could be implemented for closer to $800,000.
Ohanian said her estimate is lower because there's already plenty of room in existing school buildings for the 270 new kindergarten students, which negates the need to bring in portables or add on to schools. She said the district could also keep costs down by reducing, or doing away with busing, which isn't required for kindergarten students.
But all along, the school board and Bell have disagreed, saying to "do kindergarten right" would require more funding than Ohanian's numbers showed.
More photos:
In Milford and Lyndeborough, two other communities without kindergarten, start-up costs were folded into school budgets, but voters rejected spending any money to build new classroom space to house the programs.
After hearing the ballot numbers in Hudson on Tuesday night, Bell said he and the board will resume working on the issue.
"I think we all recognize what the economic issues are these days," Bell said. "I don't think there are any hard feelings on either side."
Bell said while raises for all district employees were voted down, there was at least a sliver of silver lining shining through. "We're grateful the operating budget passed, at least," he said.
Overall, Bell said, "you can't really be surprised given what's happening with the economy," Bell added.
"People did what they had to do."