Hudson to renovate derelict Benson's buildings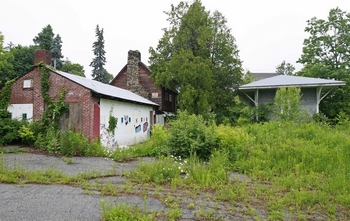 The once hustling, bustling Hudson hot spot known as Benson's Wild Animal Farm has fallen deep into disrepair in the 22 years since it closed.
Structures have weakened from weather, graffiti marks a few walls, and vegetation has overtaken animal cages. There are few signs of life in the vast area; no humans, and certainly no apes.
Suddenly, as a town official tours the dilapidated buildings, a fox darts out of an abandoned lion pen. It's a far cry from the activity that was here in 1987, but the town may do something to change that.
The town of Hudson – the new owner of Benson's – has no plans to bring back wild animals, but it does intend to spend $140,000 to renovate three historic buildings and three other structures on the 165-acre site.
Contractors have assessed those buildings recently to get an idea of what kind of work they'd face if they took on part or all of the project.
The buildings have essentially stood untouched since the park's 1987 closing, but the town would like to reopen the property as a walking area and picnic site.
Proof of two decades of desertion abounds almost everywhere. The roof of the Hazelton Barn dips. Graffiti and water damage spoil the elephant house. The gorilla house roof stays afloat only because of the steel cage inside; the wooden structure has become deficient over time.
The town must commit the $140,000 by June 30 – the end of the fiscal year – or return the money to the general fund. On Tuesday, selectmen reviewed contractors' bids to repair one or all of the roofs of the six buildings and will decide on the scope of work probably next week.
On Friday, Assistant Town Administrator Mark Pearson discussed the extent of the work at the site. Shortly before the walkthrough, Pearson watched a group of contractors review the 36-inch-by-96-inch timber-frame Hazelton Barn.
The structure needs significant repair. From the outside, it's easy to see the roof sag, but even inside, the sway is noticeable.
"The south side . . . is dipping," Kevin Langill of KSL Contracting said while alternately examining wear but also commenting on his appreciation of the barn's size. Langill said his company would submit a bid.
In January, the state Department of Transportation sold the land to Hudson for $188,000. Aside from the $140,000, the town also has several hundred thousand dollars set aside – collected from grants and impact fees – for repairs, Pearson said.
The town has to remove all hazards – broken boards and glass, any possible open sewer holes or utility equipment exposure – before opening the park.
To get citizens excited, the town will display Benson's memorabilia from June 28 to July 12 at Hills Memorial Library.
Former Benson's owner Arthur Provencher loaned artifacts, photos, drawings and a 6-square-foot replica of the park.