Hudson selectmen choose new chief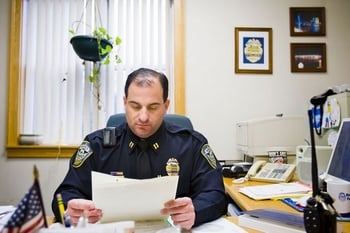 HUDSON – Hudson selectmen didn't have to look far to find the next leader of the town's police department.
Capt. Jason Lavoie, a 17-year veteran of the Hudson force, was tapped Wednesday by selectmen to replace outgoing Chief Richard Gendron. Lavoie was selected from among four other candidates from within the department.
The selectmen made their pick during a nonpublic session Tuesday night, according to Town Administrator Steve Malizia.
Lavoie was Gendron's first hire when Gendron became chief in 1991, Lavoie said. The 40-year-old Hudson native was promoted to captain in 2006.
"I was actually very humbled by it," Lavoie said. "I know the quality of the people who went through the process. It was just very rewarding."
Other candidates for the department's top job included Capt. Don Breault, who heads the support services division; Lt. Bill Avery, a 15-year veteran; Lt. David Bianchi, who joined the department 12 years ago; and Lt. Robert Tousignant, who has 28 years on the force.
Town officials said all of the candidates were well qualified. The citizen and professional panels that interviewed all five candidates recommended Lavoie for the job, selectmen Chairman Ben Nadeau said.
"His communication skills are excellent. He's a very well-rounded guy," Nadeau said.
"We were looking for a well-rounded, good character type of guy that can run a police force the size of Hudson."
Lavoie lives in Hudson with his wife, Linda, and two children, Tyler and Kayleigh.
His promotion ends a search by the selectmen and an independent recruitment service that began when Gendron announced his retirement in August.
Gendron spent 30 years with the department, the last 17 as chief. He wasn't available for comment Thursday.
Malizia said the selectmen are happy with the quality and direction of the department, which is waiting for the renewal of its national accreditation and were looking for someone who would continue Gendron's work.
"They recognize we have one of the best police agencies in the state," he said. "(Lavoie has) been brought up in the Hudson Police Department. Bottom line, I think he'll continue the same mission. I think he's very well trained and will continue the work Dick Gendron has done."
That's exactly what Lavoie said his agenda would be when he takes over the corner office Jan. 1.
"Fortunately the chief has done so much with this agency, he's left me in good shape," he said. "My goal is to make sure that we do not fall back any steps at all in his absence. The chief has done an outstanding job with this agency. I'm very proud to be able to replace him."
That mission, Lavoie said, centers on "forming connections with the community," and focusing on recruiting highly qualified officers.
"We all want to make sure the ship keeps sailing in the direction it has been," he said. "We want to make sure the community is getting the things it expects from the department."
He said his first order of business would probably be more promotions. His move opened up a captain spot. Filling that will open up a lieutenant position, which will open up a sergeant position, he said.
All five candidates were interviewed last week by a citizens panel and a professional panel. The citizens panel, appointed by the selectmen, included Superintendent Randy Bell, middle school Assistant Principal Keith Bowen, zoning board member Michael Pitre, and resident Charlie O'Donaghue and Steve Flaherty.
The professional panel included four current and retired police chiefs plus Hudson Fire Chief Shawn Murray.
Breault and Lavoie were then interviewed by the selectmen Tuesday.