Hudson looks to future as more from low-income families enroll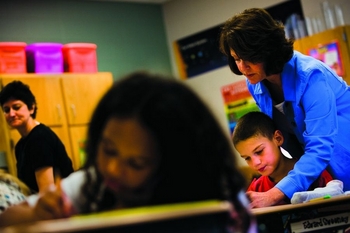 HUDSON – More low-income and non-English speaking students are enrolling in Hudson schools, and officials here are eager to learn how far the trend will go and how much they'll have to spend to address it.
This year the district's Title I funding jumped more than 40 percent to $468,146 based largely on the fact that 246 students from low-income families enrolled in the district's six schools compared to just 91 last year.
The Hudson School Board has agreed to spend $15,000-$25,000 to commission a demographic study that will look at enrollment and housing projections, demographic changes in the district, and regional economic development, Bell said.
"This is for long-range issues," Superintendent Randy Bell said. "It makes a difference in some of the budgeting projections we're going to do. Part of what we're looking at are projections as to whether we'll continue to qualify for Title I funds."
In July, the school board agreed to accept the Title I money, something it hasn't done in the last six years, according to Assistant Superintendent Mary Ellen Ormond.
Ormond and Bellare pleased to have an almost $500,000 boost to the district's coffers to start the year, but they also want to understand how far the new trend will continue and if the district can count on similar Title I grants for a number of years.
It's important to get an idea of makeup of the district's population, and how it may change, because it will give officials a hint of not only what they'll have to spend but in what areas, they said.
"Given the changes we have seen this year, such an expert study has become very important to our future planning," Bell wrote in a memo to the school board.
An influx of any particular type of students – be it those with limited English skills, special education needs or simply an older age group – will necessitate spending more on certain programs, or for teachers in specific subjects or grade levels. Knowing what those needs are ahead of time will give officials the chance to start planning, and saving, instead of being caught flatfooted, Bell said.
Only 82 "poor children" – those from low-income families or those living in foster care – attended Hudson schools in the 2007-08 school year, according to a letter from the state's Title I administrator, Dorothy Fair. Those numbers were based on the 2004 census.
This year 240 low-income students and six foster children enrolled in the district based on the 2005 census, according to the letter. That means more than 5 percent of the district's population of 5- to 17-year-olds came from "poor" families, according to the letter – one of the benchmarks that helped drive the district's Title I funds skyward, Ormond said.
While the raw numbers are small, the changes are significant relative to the size of Hudson population.
"It's a big number for this town," Ormond said.
The number of students with limited English skills is also on the rise from 68 in 2004-05 to 96 last year and a similar number this year, Ormond said
Some of the Title I money will pay the salary of a part-time English teacher for those students, Ormond added.
Although the state has given the Hudson district its Title I allocation, the district still has to develop a plan to use the money, which the state will approve.
About one-third of the grant is spent according to the terms of the grant. The district has to allocate about $93,000 for school choice transportation so any parents whose children attend an under-performing school can opt to send them to another school in the district. (See accompanying story.) Another $64,000 has to be set aside for professional development for paraprofessionals and about $9,000 is put aside for homeless students.
The Presentation of Mary Academy will also get about $15,000 to hire a math tutor to work with students identified as being at risk of not meeting grade-level standards.
The district will also spend $157,000 on reading and math programs for Alvirne High School, Hudson Memorial School and Dr. H.O. Smith School, according to Ormond's plan.
The plan also includes spending $44,714 for a reading teacher at H.O. Smith, $46,000 for a consultant to work with middle and high school teachers and $26,000 for a Title I coordinator.
Ormond said although the district is able to hire more instructors because of the grant, she's reluctant to do so because there's no guarantee that money will be given to the district next year or the year after.
"I would prefer not to pay salaries with a grant," she said. "They'll stay as long as the grant stays."
Title I numbers
Hudson School District's Title I Allocations
School Year…….Amount ……Change…..% Change
1999-2000…….$ 77,624.23 – –
2000-01……… $ 81,764.00 $ 4,139.77 +5%
2001-02……… $ 88,948.43 $ 7,184.44 +9%
2002-03……… $ 91,218.85 $ 2,270.42 +3%
2003-04………………………$(91,218.85) -100%
2004-05……… $ 4,863.18 $ 4,863.18 –
2005-06……… $ 11,232.42 $ 6,369.24 +131%
2006-07……… $ 12,921.22 $ 1,688.80 +15%
2007-08……… $ 12,766.64 $ (154.58) -1%
2008-09……… $465,343.35 $452,576.71 +3545%
Hudson School District's ESOL Population
School Year ESOL Students Change % Change
1998-99……………104………………..—……………..—
1999-2000…………..90………………..-14……………-13%
2000-01……………..83………………..-7………………-8%
2001-02……………..97………………..14…………..…-17%
2002-03……………..79……………….-18…………..…-19%
2003-04……………..74………………..-5………………-6%
2004-05……………..68………………..-6………………-8%
2005-06……………..89………………..21…………..…-31%
2006-07……………..91………………..2…………….…-2%
2007-08……………..96………………..5…………….…-5%
Proposed Title I Spending Budget
Activity Proposed Budget
Professional Development – required $46,914
Homeless Set aside $9,382
School choice $93,829
HMS/AHS ReadingProgram $120,000
HMS/AHS MathProgram $50,000
Title I Coordinator $40,000
Elementary ReadingProfessional Dev. $25,000
Indirect Costs $12,710
Total $397,835